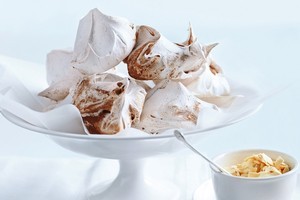 Snow-white meringues with their fragile peaks make for elegant treats. Serve a plate of choc-swirl tufts with honeycomb cream for a chic high tea morsel.
Makes 10
4 egg whites
1 cup caster sugar
1 tsp white vinegar
1 Tbsp cocoa
1 cup pouring cream
100g honeycomb, chopped
1 Preheat oven to 120C.
2 Place the egg whites in the bowl of an electric mixer and beat until stiff peaks form.
3 Gradually add the sugar and vinegar and beat until the mixture is thick and glossy. Fold through the cocoa for a marbled effect.
4 Place 2 Tbsp of the mixture at a time on to baking trays lined with non-stick baking paper.
5 Bake for 25 minutes or until meringues are crisp to the touch. Turn oven off and allow the meringues to cool in the closed oven for 1 hour.
6 Place the cream in a bowl and whisk until soft peaks form. Fold through the honeycomb and serve with the meringues.
Tips and tricks
Beat the meringue mixture in a very clean bowl.
Separate the egg whites, taking care to ensure no yolk gets into the whites.
Be careful not to under-beat the meringue mixture. Test it's ready by rubbing a small amount of the mixture between your fingertips, if you can't feel any sugar granules, it's ready to go in the oven.
Leave the meringues in the oven to gradually cool down as the oven does.
* For more recipes by Donna Hay click here.