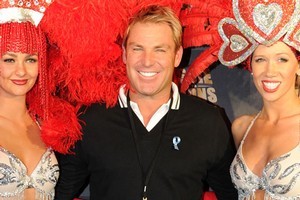 Liz Hurley has taken to Twitter to dismiss claims that boyfriend Shane Warne has started wearing eyeliner.
The model has said claims Warne wears eyeliner and lip gloss are nonsense and his new youthful look is simply down to moisturiser and good diet.
She tweeted: "SW does not wear eye makeup or have an 'eye liner tattoo' ... his eyes were born that way.
"Neither does he wear lip gloss FYI hacks in gossip press; he'd prob just given me a kiss & got a bit of mine."
She claimed that he has lost 11.3kg in weight - which would change anyone's appearance.
"And re 'looking different'; you try losing 25lbs and see if you do!"
Warne has denied undergoing any cosmetic surgery and has said Estee Lauder, the cosmetics brand that signed Hurley as their face, was responsible for his healthy glow.
"Questions re facelift/Botox etc are absolute rubbish," Warne said on Twitter in April.
"I am 86kg. Lost 7kg and close to being the fittest I have ever been. I am also eating very healthily and am flattered that people think I look younger."
- NZ HERALD STAFF