Herald Rating: 4/5
Address: 775 New North Rd, Mt Albert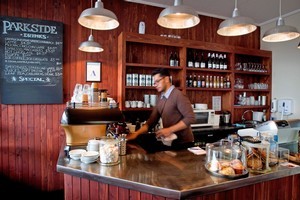 We came here because we'd driven past this place a couple of times recently and thought the tables in the front window looked like a great spot from which to watch the goings-on at Rocket Park across the road.
Parking was easy - there was plenty on the side street on a sunny Sunday morning.
We walked in and immediately thought we love the industrial lampshades, the exposed brick walls, the art and the high ceilings - thought for some reason the acoustics make it very noisy in there.
The most unusual thing on the menu, the corn fritters with a poached egg, hollondaise sauce and bacon ($16.50), is pretty standard but the lunch menu had a few unusual options.
We ordered the aforementioned fritters, creamy mushrooms on toast ($13.50) and an omelette and toast ($16.50). You can choose up to three options from the extras menu for the omelette and I went for venison sausage and cheese. All three meals were excellent and well presented, and the mushrooms were declared the best of their king Joe had ever tried.
The service was polite, friendly and efficient.
The coffee was very good.
We recommend if you come here you leave some time at the end for a romp around the great Rocket Park - one of the best in Auckland.
Overall we thought Parkside is a great suburban cafe with really good food and a nice vibe. We'd definitely go back.