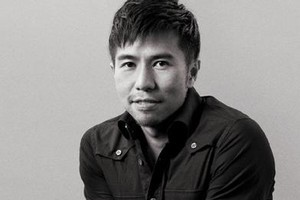 Women in Asia contend with hot, humid weather for months at a time, and though many concentrate their beauty efforts on skincare, I do wonder how those who wear makeup stop it from sliding off. (After about 10 minutes away from air conditioning I feel like my foundation has disappeared as my skin flushes and my mascara smudges).
At an Asia-Pacific presentation of the latest makeup trends, I asked M.A.C's senior artist for Taiwan, Think Ho, how Asian women cope, cosmetically-speaking, in the heat. The secret, he says, is in making the skin prepared and perfect. Primers help provide a smooth base for lasting makeup. A light sweep of translucent powder further helps the layering of other products. (He recommends M.A.C Prep & Prime, including its silky fine Transparent Finishing Powder for a dewy look before applying Pro Longwear foundation for a natural non-matte finish. Other favourites are Cream Colour Base for the eyes and cheeks and Mineralize Skinfinish powder).
Asian women who do opt for obvious makeup generally put the emphasis on their eyes, rather than their lips. "I think for Asia girls they love to do more eye makeup.
They want their eyes big. They don't like their lips to be too big or bright." They are also "crazy" about false lashes. Even Taipei's bustling night markets have whole stands devoted to them.
Think Ho also says interest is growing in using more obvious cosmetic colours, rather than muted shades matched to skin tone. "The young generation, they love colour."
They've got plenty to look forward to with next season's vibrant shades. (More about this in Viva next month).
- Janetta Mackay
Lashes that last
You can forget about packing the mascara for a tropical midwinter getaway or even in your handbag for a night out on the town. A new procedure about to be offered in selected beauty salons is the first in New Zealand to coat your lashes in semi-permanent mascara, which should last about two weeks.
The CryBaby treatment takes 30 minutes and offers "two weeks of volume, length colour and curl that's 100 per cent waterproof".
It is being brought into New Zealand from the US by Eye Envy Lash Design's Rebecca Doherty, who has previously specialised in eyelash extensions. The coating is a Cyano product which has elastamers in it with patented fibres which allows it to eventually break down, therefore not interfering with the lash cycle.
When asked about the benefits of the semi-permanent mascara over pricier eyelash extensions or even eyelash tints, Doherty says the benefits speak for themselves. "Eyelash extensions only take up 2 per cent of women who attend salons, whereas 84 per cent of women own mascara. A tint just adds colour. This just seemed to be that perfect in-between, both for the budget and for gaining volume and thickness and some extra length."
During the application your eyes are closed and eyelids gently manipulated. A gel pad is applied to the lower lashes to keep them out of the way while the top lashes are coated. First a primer is applied to remove any dust or oils. Once this is dried, lashes are curled then CryBaby applied, with lashes separated to ensure there is no clumping. Then the same is done to the bottom lashes.
I'm pleased with the results - it looks as promised. I experienced a tiny bit of stinging, which soon dissipated with the use of a light moisturising spray, which helps the product cure faster and alleviates any discomfort. If the treatment goes into your eye, I was told it would not cause harm, just feel uncomfortable.
Nothing interferes with the longevity of the coating - you can swim or go to the gym as usual, and if you sleep on your face, a bit of hot water in the shower will help lashes spring back into place. It is best, however, to avoid oil-based products and waterproof mascara - not that you should need to apply any for a few weeks.
The treatment, which Doherty expects salons to offer for around $60, will wear off naturally after about three weeks or it can be removed and reapplied after two. It's ideal for holidays or a big occasion.
- Shandelle Battersby