Actress Gypsy Kauta often goes back to the past to make her wardrobe exude a timeless quality. Viva finds out more.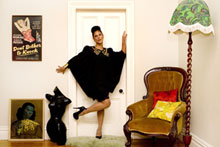 Having collected vintage for 15 years, Gypsy Kauta's wardrobe is full of secondhand treasures.
The actress has a passion for Victorian and Edwardian undergarments, which she will often have altered to wear as outergarments.
You're likely to find Kauta perusing the racks of her favourite store, Auckland vintage boutique, Tango, but she also counts Paeroa as a favourite place to find "vintage retro things without the Auckland price tag".
Kauta, who is playing Bianca in Peach Theatre Company's production of Othello, opening in Auckland on Friday night, describes her style as a unique blend of "boho-hobo slash glam slash exotic chic". And with a sense of timelessness, too.
"When you collect from all the different eras your wardrobe becomes timeless."
* Othello, July 22 - August 13, Maidment Theatre, 6 Alfred St, Auckland. Tickets $25-$54, through the site or ph (09) 308 2383.
What was the last item of clothing or accessory that you bought?
I'm having a love affair with my new 1950s mink coat at the moment. It has a leopard collar and was found in New York by the owner of Tango.
What item of clothing or accessory do you want to buy next?
Hmmm, I could go a pair of velvet cherry Docs right about now. Do you know if they make them?
What is your favourite boutique?
Tango! It is the creme de la creme. I've been going there for years and Driss, the owner, is great at picking out things that suit you and that you would not have normally looked at.
How do you describe your sense of style?
I guess boho-hobo, slash glam, slash exotic chic.
Where do you shop online?
I don't.
What one item from your wardrobe do you put on and immediately feel great in?
My metal cuffs. I wear them with everything. They make me feel like a warrior princess. You can find them cheap at Diva and other costume jewellery shops.
Favourite fashion-y movie, or fashion moment in film?
I love the diamond dogs in Moulin Rouge - sexy and fun.
Who are your favourite designers?
I don't really have a favourite but if I was to name a Kiwi designer, I would have to say Trelise Cooper as I love the undergarments, they have lasted me years. That's right, the same undies for ... years!
What's your weekend look?
Depends on the weekend. I like to make my gym gear a little quirky by wearing little white ankle socks with frilly lace.
What is the best costume you have ever worn?
I love the neckpiece my last character wore. It's a large Tibetan one that I found on my travels through India.
Do you have a favourite chain store?
I enjoy Savemart - you can find some good bargains if you have the time to hunt.
What is your beauty routine?
Honestly, I only use hot water and a flannel, I never use soap. I love all Phoenix cosmetics as they custom-blend for your face; perfect.
Best sartorial advice you ever had?
It's more of a saying: you can buy fashion but ya can't buy style!
Who is your ultimate fashion plate?
I love Dita Von Teese for her suggestive vintage style; I love Frida Kahlo for her use of colour and Jimi Hendrix for never holding back.
By Zoe Walker

Email

Zoe