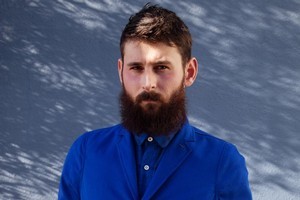 AUT's fashion school is known for turning out talented graduates, and a group of them are collaborating on a menswear-focused fashion collective, exhibition and temporary store opening in Auckland tomorrow.
There are several people involved in the collective, and store, including Andreas Mikellis, the head of fashion at the university, who will be showing his masters collection, Nadeesha Godamunne, a teacher who is producing large-scale water colours for the store and Ra Brown, who will show a live performance on the store's opening night. Matt Nash will launch a range of utilitarian-style bags for men, made from canvas and oilskin and with a quirky hidden feature. "I'm a big fan of old wives' tales and myths - the myth of gifting a coin in a bag bringing luck and safety to the owner is one that I love. For this reason I have a pre-decimal New Zealand coin sewn into the internal pocket of all my bags," Nash explains. Glenn Yungnickel, previously the designer for Crane Brothers' ready-to-wear range, will exhibit and sell his 65-piece collection inspired by workwear and colour blocking - a collection that also features a collaboration with Sara Wilson, who has created knitwear that sits with Yungnickel's range.
"I wanted it to be quite a wearable range, making it more accessible for the New Zealand male consumer to consider. I guess the cuts of the clothes are quite minimal, taking reference from traditional tailored menswear, but then pushing it into a contemporary range with a more pre-loved aesthetic ... I like to use this wear-and-tear aesthetic within my designs, to express the 'passing of time' and the worn garment," Yungnickel explains. Expect lots of shirts, a seam-sealed waterproof raincoat, double-pleat cuffed shorts and a collarless raglan sleeve linen shirt.
* Anew Menswear, July 21-24, 11am-8pm, 1A Scotland St, Freemans Bay.
For busy shoppers
The Crane Brothers website has had a charming makeover, with the chance to buy a curated selection of products online - like vintage art deco cufflinks, a Scottie dog lapel pin, a beautiful three-button coat, a Peter Stitchbury book and much more.
Shoes on sale
Footwear store Scarpa are renovating their Westfield St Lukes boutique, and having a special sale. Starting this Friday, selected European designer shoes will be discounted, until Thursday July 28. Ph (09) 815 0851.
Up the Road
Auckland store Sergeant Pretty, which combines a well-edited range of vintage pieces with new designs by Linda Davidson, has moved. The Grey Lynn boutique is now at 4/571 Great North Rd, in the space once occupied by Michael Pattison.
Toy story
Contributing to a good cause has never been as easy as buying these collectibles - part of Medicom Toy's Be@rbrick One Love project - which is supporting relief efforts in Japan by donating profits to the Japanese Red Cross Society. There are two colours of the jewel-eyed collectibles available now at Fabric boutiques, for $10 each. Ph (09) 366 4528.
Who's in, who's out?
The official designer line up for NZ Fashion Week, which begins in Auckland on August 29, has been announced, with some big names returning to the schedule - and a few high profile no-shows. Workshop and Helen Cherry will be part of the event once again, as will World, Sabatini, Zambesi, Trelise Cooper, Huffer, Ruby, Kathryn Wilson, Salasai and Stolen Girlfriends Club. The Viva team is excited to see Ingrid Starnes make her NZFW début. Several high-profile labels won't be taking part however: Nom*D, who have taken part in every fashion week since it began in 2001, will sit this year out, Kate Sylvester isn't planning on showing at this stage, and Alexandra Owen hasn't committed to a show. Designer Cybele Wiren won't be showing either, because she is about to have a baby.
Kenzo's new designers
America's Opening Ceremony is widely considered to be one of the coolest stores in the world - and now the owners are at the helm of Kenzo. Humberto Leon and Carol Lim have been brought in to add more "energy" to the brand, "which is looking forward in terms of addressing a new generation", according to LVMH's fashion division chairman said CEO Pierre-Yves Roussel.
Helping out
Rodney Wayne has generously donated 10 per cent from each salon's turnover for the day of March 19 earlier this year to the Adopt a Christchurch Family charity - a total of $14,209.39 was raised to help those affected by the earthquakes.