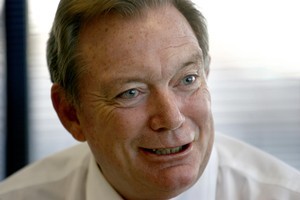 Mihingarangi Forbes' television interview with Alasdair Thompson raised an interesting issue beyond the obvious one regarding the relationship between menstruation, productivity and pay rates.
It demonstrated that an interviewee as seasoned as Thompson seemed to struggle with understanding when the camera was rolling and when it wasn't, when the interview was on-the-record and when it was off, whether he needed to put on his calm and rational demeanour or whether it was safe to gesticulate and berate Forbes from uncomfortably close quarters.
It just goes to prove that our lecturer at journalism school at the University of Canterbury was right.
He warned us to be very suspicious of the term 'off the record'.
Local media man Brian Edwards advises his clients to steer well clear of it and during my ten years as a print journalist I've found it only serves to confuse the terms of an interview.
Firstly, there seems to be no universal agreement as to the precise meaning of 'off the record'.
Some people think it means the journalist is supposed to somehow forget they've heard the comment in question. This, of course, is an unreasonable, if not impossible, expectation.
Some people think it means the comment can be included in the article as long as it's not attributed to the person concerned.
Another school of thought is it serves as a kind of 'heads up', an invitation to track down a source prepared to utter these words 'on the record'.
And sometimes, especially in the case of investigative journalism, material labelled 'off the record' is intended to serve as background to assist with the direction of further inquiries.
With journalists themselves taking different positions as to the meaning of the words, there's little wonder that the nuances typically escape interviewees.
The second significant problem with the declaration: 'This is off the record' is that it begs the question: 'What exactly is 'off the record'?' The parenthetical aside? The next sentence? The rest of the anecdote? The rest of the interview? It's impossible to tell and to clarify could be counterintuitive to many journalists since it's likely to interrupt the flow of a good story.
'Off the record' also suggests the idea that a journalist is some sort of automaton with knobs, buttons and settings that control what information is picked up and what is used.
But as blogger Matthew Stibbe wrote: "Journalists do not have a magic 'off' switch that is activated when you say the words 'off the record'.
"If you want to keep a secret, don't tell anyone."
The phrase has been bandied about so much it's often perceived as having mystical qualities. It doesn't.
It's not some powerful incantation that calls a journalist to heel.
It's merely three short words that can confuse both interviewer and source.