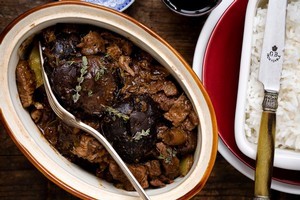 Serves 4
2 Tbs olive oil
4 rashers of bacon, diced
2 onions, diced
1kg blade or chuck steak, cut into cubes
Flour
Salt and freshly ground black pepper
2 cups red wine
Bouquet garni - bay, thyme, parsley and 1 strip of orange zest - tied together with kitchen string
4 cloves garlic, finely chopped
1 1/2 cups beef stock
16 small portobello mushrooms
Boiled potatoes with parsley or rice to serve
1. Preheat the oven to 170C. Using a cast-iron casserole dish, heat the oil and brown the bacon.
2. Remove with a slotted spoon then add the onions, cooking until soft and golden, then also remove and set aside.
3. Toss the meat in the flour and season. Brown in batches, removing each piece as it becomes nicely browned.
4. Return all the meat to the casserole. Turn up the heat so the wine bubbles and begins reducing.
5. Add the bouquet garni, garlic, reserved bacon and onions and enough stock to just cover. Cover tightly and cook for 2 1/2 hours then taste the meat for tenderness.
6. Add the mushrooms and cook for a further 30 minutes.
7. Serve with boiled potatoes and parsley or rice.
Chef's tip
Use blade or chuck steak when making beef bourguignon - the famous peasant French dish. Cheaper cuts have good flavour but need to cook for at least three hours.