Not for the faint of heart, Danielle Wright discovers that Chinese reflexology means business.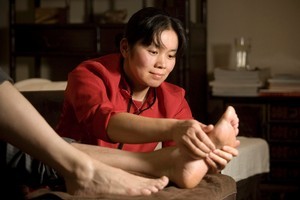 "Sore and painful is normal," says Wennie, my cheerful reflexologist as my feet are plunged into a scalding hot water bath. But, before I can voice my concerns, a vigorous back massage begins.
As she pushes a knee into my back and stretches my arm so far back it doesn't feel right, Wennie says, "Just relax". That's not going to be easy, I think to myself.
The room is relaxing enough, the lights are dimmed, it smells of aromatherapy oils and the seats are comfortable _ so comfortable that one client comes for a session every day for two hours and falls asleep each time. My reflexologist is also friendly and very experienced. I trust she knows what she's doing.
It's just that I was expecting something like the soothing foot massage I had during a maternity reflexology session a few years ago. At the time it was used as a way to "get the baby moving". It was gentle and did the job.
Today, after 15 minutes soaking, my feet, now wearing red socks from where the water scolded them, are rested and the reflexology part of the session begins.
Reflexology works on the premise that every part of the human body corresponds to a part of the sole of the foot, and applying pressure to these parts will help the problems in corresponding areas.
Essentially, parts of your feet "reflect" other parts of your body.
My feet are rubbed in different zones and I feel a little uneasy, like when someone tells you they can read body language. I hope my feet don't reveal too much.
According to my feet, though, I'm in pretty good shape. Wennie does sometimes uncover more serious illnesses and wisely suggests that I need a holiday. I like her diagnosis, and even though it's not a comfortable massage, it feels like it must be doing some good.
I'm at the renowned Bliss Reflexology, which is the massage service provider in Air New Zealand Koru lounges. Jonah Lomu described its service as: "The best ever massage. This is the place to be." Although I don't want to put people off, he's no doubt a bit tougher than I am.
After the session, I'm told to drink lots of water and I feel quite tired while my body is fighting off whatever toxins have been loosened. A few days later, my shoulders, which were the problem area, feel much better.
I spoke to Vivienne Batchelor, vice president of Reflexology New Zealand, to find out why this experience was so different to my first session.
"In New Zealand, there are many people offering reflexology, so it's a good idea to make sure you know what style of reflexology you are going to receive," Vivienne explains.
"Western-style reflexology is distinct from Chinese or other styles of reflexology and should not cause undue discomfort. It should be a pleasant, relaxing experience designed to induce deep relaxation and enhance the well-being of the client."
According to Vivienne, modern western reflexology is credited to Eunice Ingham, whose teaching and book Stories the Feet Can Tell inspired people all over the world. Reflexology is so popular in South London that disruptive students are even given it in a bid to curb their unruly behaviour.
In China, reflexology has become so cheap that some people use it as a daily routine. Here, it's a lot more expensive so just make sure you know what to expect before you book.
Put your best foot forward
* Bliss 60-minute Chinese traditional foot massage, including foot spa and neck, back and arm massage = $89.
* Click here find a western-style reflexology practitioner in your area.
* For mums-to-be with late babies: Margaret Fairbrother is a specialist in maternity reflexology, ph: 09 473 3605.
* The Reflexology Association of Australia also has a helpful interactive foot chart that shows exactly which parts of the foot correspond to which other body part.
* If you are currently undergoing treatment or are on any medication, you should consult your GP before reflexology treatment.