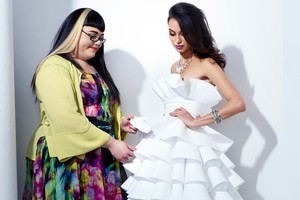 Who knew toilet paper could look this elegant?
Rachael Duval of Morningside is among three young designers whose works will feature in this year's New Zealand Fashion Week.
Their designs are made completely out of Kleenex Cottonelle toilet paper.
Duval's design, Gentle Waves, was inspired by the gentle foamy waves of the sea.
She will join fellow Aucklander Juvena Worsfold, 19, and 17-year-old Emily Menzies, from Wellington, whose toilet-paper designs will also feature on the runway.
Duval, 22, said: "I feel honoured to have been given this amazing opportunity. This is totally the next level."