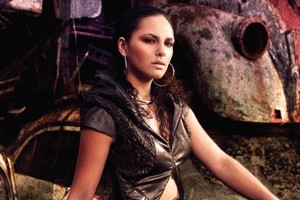 The plus-size finalist on New Zealand's Next Top Model has her skinny counterparts on the run.
Aroha Newby, who is the first size-12 model on New Zealand's version of the hit US show, beat the remaining finalists on Friday to become the face of the new Mai FM Street Jams CD.
The shoot involved posing in the central North Island wrecker's yard featured in Kiwi film Smash Palace.
Guest judge DJ Sir-Vere said Newby "nailed" the shoot by conveying a fresh, young and vibrant attitude.
The Gisborne 19-year-old was also favourite with viewers with 768 fans on her Facebook page, more than any other contestant.
Newby was inspired to enter the industry by photos of "beautiful and powerful" women, she said on her TV3 biography.
She believed her curvy figure would help her get ahead in the modelling world. "I'm not a thin model. I'm a real New Zealand chick," she said.
And fans agreed. "Plus size, really? Perfect size I'd say! Keep looking healthy and happy, Aroha, it suits you," said Fiona Adams.
The Mai FM Street Jams album will be in stores tomorrow.