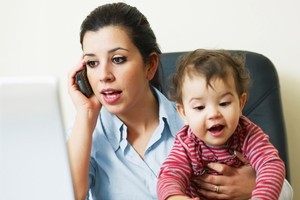 Researchers have found women who have three or more children are more likely to suffer long-term career disadvantage or leave work altogether.
A study was undertaken by University of NSW PhD candidates Anna Zhu and Catherine Brogan has found that women who aspire to lifelong careers should consider not only whether they want children at all but how many kids they can afford to have.
Using a statistical sample of some 13,000 Australian women, they found a correlation between larger families and lower workforce participation for women.
Specifically, women with three or more children are 10 percentage points less likely to be employed than women with two children.
Zhu says the workplace gap persists when children are older, even though mothers could theoretically return to work more easily then.
"This suggests family size has long-term consequences for women as time out of the workforce leads not only to declining or outdated skills but, often, to a loss of confidence," she said in a statement.
"Significantly, the study [reached] the apparently simple explanation that women who have more children are less interested in working and happy to stay at home.
"When all else is equal, that is, when you take two women with the same aspirations and career plans, it is the addition of an extra child that determines the lower employment rates for mothers of larger families."
- AAP