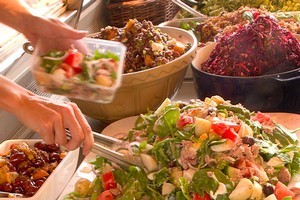 1. Ripe Deli
172 174 Richmond Rd, Grey Lynn. Ph (09) 360 6159. Mon-Fri 7am-6pm; Sat 7.30am-3pm, Sun 8am-3pm. Dinners available from 1.30pm.
A fortnightly rotating winter menu - try lamb shanks, pork schnitzel or beef bourgignon - plus chilled or frozen shepherds or smoked fish pies. Round out dinner with salads and a pudding or crumble for dessert. From $16 for large singles through to $26.
2. The Casual Foodie
23 Enterprise St, Birkenhead Point Ph (09) 480 6625. Mon-Fri 8.30am-6pm; Sat 9am-1pm
With layers of slow cooked pork and beef bolognese sauce, parmesan and bechamel sauce, it is no surprise that traditional lasagne is the biggest seller (from $14.95, serves 2, to $29.95 family size). A variety of pot pies are on offer ($9.80 to $34.80), plus soups and winter salads.
3. Gluten Free Grocer
13 Mt Eden Rd, Mt Eden, ph (09) 373 3122. Mon-Fri 7am-7pm, Sat-Sun 10am-5pm
The Auckland distributor of Cuisann gluten-free lasagne $8.90 (in beef, lentil or chicken options), gluten-free deli food like spinach and feta rolls or frittata, makes an easy stop for dinner.
4. The Little Grocer
311 Richmond Rd, ph (09) 962 6711. Mon-Sat 7am-7pm, dinner pick up from 5.30-7pm, Sun 10am-4pm
Roast chicken and veges on a Wednesday, crumbed fish on a Friday, Tuesday vegetarian and Thursday vegan dinners ($18 each), plus chilled, frozen and counter food, baking, pies and salads. You'll never need to cook dinner again.