Dionne Christian discovers The Edge's Pick & Mix programme is just the ticket to brighten up your winter days.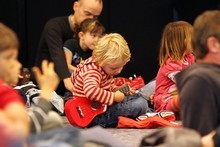 Sporty is not a word I would ever use to describe myself or my family so come the cold weather, you'll be unlikely to find us playing winter sports or even on the sidelines watching.
But that's not to say I want to spend winter hibernating. I like to get the kids out and about, experiencing things with the girls, Miss 6 and Miss 2, that fall into the family-friendly "cultural pursuits" category. So when I heard about Pick & Mix at The Edge - a series of free performances and workshops on Saturday mornings - I was instantly interested.
Bronwyn Bent, public programmes manager for The Edge, describes it as bringing a little sunshine into winter.
This year's Pick & Mix journey kicked off - or plucked into action - with a free concert by New Zealand's original ukulele trio The Nukes: David Parker, Ben Collier and David "Snapper" Thiele.
We'd never been to a ukulele concert before so I figured it would broaden our collective horizons and as it was billed as being for the whole family, I took Nana and her friend, both in their seventies, along for the ride.
There must have been around 175 people - including a couple of celebrities and their kids - who came to be entertained.
And entertained we were. Hailing from West Auckland, The Nukes performed a toe-tapping, good humoured mix of upbeat, folksy, sometimes soulful and always engaging original songs.
Those families who wanted to be up close sprawled across the floor in front of the stage - the atmosphere is relaxed, informal and friendly.
The youngsters, some clutching their own ukuleles in hand-crafted soft covers, sat wide-eyed with wonder and clapped at all the right times, singing and laughing at the dance moves.
Ben Collier says it wasn't a total surprise given the ukulele has a lot of new converts.
Maybe that knowledge helped sweep the parents along, too. It really did feel like being at a "grown-up" gig sans kids even though they were right there. None of the grown-ups - grandparents included - took much persuasion to rock along to songs like the Apra award-winning Peas & Carrots.
Unfortunately, a bright and breezy song about things that go together, like peas and carrots, did nothing to encourage Miss 6 to eat her vegetables but the performance obviously made an impression.
The dancing wasn't enough to tire Miss 2 out. She was so happy and hyped after the show that she defied my belief we are un-sporty. While having a nappy change, she managed to leap off the change table, run out of the ladies' loo and perform a near-naked streak across the entire length of the Aotea Centre foyer singing and waving her arms in the air as she ran.
But that's the thing about a family-friendly venue and event. A slightly recalcitrant child doesn't cause tsunami-sized waves because a degree of tomfoolery is expected and, within reason, tolerated.
The aim of Pick & Mix, now in its third year, is to showcase a wide range of arts and cultural activities from some of New Zealand's top performers in a welcoming environment. If our experience was anything to go by, it's succeeding.
We'll definitely be back and there's a lot to look forward to.
Coming up
Other acts we're looking out for (till July 30 at Air NZ Foyer, Level 5, Aotea Centre; from August 6 at Concert Chamber, Auckland Town Hall, Performance: 11am, workshop 12 noon). For more see the-edge.co.nz - all events free!
* Prestige Dance Crew, Saturday July 9. Learn some of the Crew's famous moves.
* New Zealand Symphony Orchestra
* Royal New Zealand Ballet
* Jarred Fell: Comic Magician
* The Improv Bandits, Auckland Music Theatre
* Affetto: A Morning at the Court of Henry VIII
* Dr Sketchy, life drawing sessions
By Dionne Christian