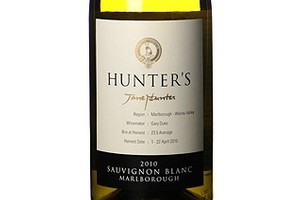 Winemaking in New Zealand may still be male-dominated but some of the country's finest winemakers and producers are women.
This should come as no surprise - wine is, among other things, about focus, flavour, texture, aroma, subtlety and structure ... qualities that women are often more in tune with than men. All are attributes that can make a wine memorable, desirable and keenly sought-after.
While pioneering work in the New Zealand wine industry may have been in the hands of rugged males who sought to tame the cattle and sheep culture of the time and plant vines instead, the mantle of refinement has often fallen to single-minded women who have been determined to take our wines to the next level.
None more so than two Marlborough producers, Jane Hunter and Barbara Lawson, whose respective wines, Hunters and Lawson's Dry Hills, have been personal favourites of mine for a considerable time. They have both been consistent in producing lovely wines at most reasonable prices.
Neither have the cult status of, say, Dry River, Atarangi, Felton Road, Te Mata or Stonyridge, but they deliver wines of precision and excellence that won't break the bank.
Hunter brings a level of energy, enterprise and expertise to her label that has rewarded her with international accolades and recognition within New Zealand.
Hunters Sauvignon Blanc has been a Marlborough benchmark wine for many years with other varietals snapping at its heels. The sparkling aperitif-style Miru Miru is a standout, as is the more complex Miru Miru Reserve.
Chardonnay, pinot noir and pinot meunier are the grapes used to varying degrees but the end result for both wines is always deeply satisfying.
A former nurse, Lawson brings a level of care, compassion and nurture to the wines that bear her name. While the sauvignon blanc, chardonnay and rieslings have a legion of regular followers, it's the gewurztraminer that often stops me in my tracks. This is a wine of sheer class with opulent aromas and flavours.
Two women, doing it for themselves - and us.
2009 Lawson's Dry Hills Gewurztraminer, $27
Lovely, luscious wine from a great vintage. Drinking now but good for 5-6 years. Taste the lemon peel, marmalade, candyfloss, ginger, lychee and Turkish Delight. This is perfect with Asian food.
2010 Hunters Sauvignon Blanc, $20
Marlborough's cool nights and warm days produce wines with intense flavours and great acidity. This is a classic. A multi-layered palate exhibits ripe tropical fruits, sweet herbs and citrus. Finishes pleasantly dry.
6872