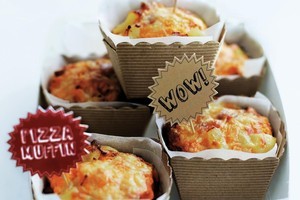 The kids will be the envy of the playground with tempting lunchbox treats. These delicious, cheese-topped pizza muffins are sure to be an instant hit. They're so good, you'll want to make them for yourself, too.
Makes 12
3 cups self-raising flour, sifted
1 tsp baking powder
1 1/2 cups grated cheddar
150g ham, chopped
1/3 cup chopped pineapple, drained
1/3 cup vegetable oil
2 Tbsp tomato paste
2 eggs
1 cup milk
1. Preheat oven to 180C.
2. Place the flour, baking powder, 1 cup cheese, ham and pineapple in a bowl and mix to combine.
3. Place the oil, tomato paste, egg and milk in a bowl and whisk to combine.
4. Add the egg mixture to the flour mixture and mix until just combined.
5. Spoon into 12 x 1/2 cup- capacity muffin tins and sprinkle with remaining cheese.
6. Bake for 30 minutes or until cooked when tested with a skewer.
Tip: Make a double batch and freeze half for next week's lunches.
* For more recipes by Donna Hay click here.