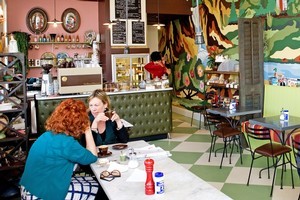 Crumpets are the new toast. Nothing screams comfort on a cold day more than a warm crumpet. Try them at Queenies Lunchroom in Freemans' Bay where they are served with lemon curd, mascarpone and berries.
Being there
One of the most stylish events of the week has to be the Define Your Vintage gig at Starkwhite Gallery. Join Cloudy Bay's vineyard estate director Ian Morden, jazz man Nathan Haines and the force behind uber-chic fashion store Black Box, Dan Gosling, for a stimulating night of good conversation, wine, food and music. With host Nick Dwyer, these style gurus will share with the audience all that has inspired them over the years, the times in their lives which have made a difference and generally celebrate life. It's bound to be a night to remember. Tonight and Thursday at Starkwhite Gallery, K Rd. R18.
Tickets $45 per person from defineyourvintage.co.nz.
Taste tickets
Don't delay in getting your tickets for the Taste of New Zealand food and wine festival. Not only does it promise to be bigger and better than last year, it also coincides with the final week of the Rugby World Cup - so you know it's going to busy. The event sees Auckland's top restaurants come together and offer a range of tasting menus, so you get to nibble your way around some of the finest cuisine in town. Plus, there will be a host of artisan food suppliers and wine producers showing off their wares, local and international food stars will be giving demonstrations, and it's all in the elegant grounds of Victoria Park. If you went last year, you'll know just how splendid Taste is. If you didn't, then we recommend you don't miss out this year. Go online for more information on tickets.
Good to go
Working late nights? Have a friend who is unwell? Or just know someone - apart from yourself - who is time-poor? Well, the answer to your prayers is here thanks to chef Alana Hiddink. Her new range of pre-prepared meals, Meat & Three Veg, is exactly what you want when it comes to fast food. Tasty, healthy and just like you made it yourself.
We've tried the scrummy salmon, prawn and fish pie - which was packed with tender salmon - and the lamb and fig tagine with couscous. The range also includes lasagnes, soups and shepherds pies and all are generous portions, low on salt and sugar, and can be eaten on the day or frozen. Meat & Three Veg can be collected from the kitchen in Manukau or delivered, and prices start from $6.95. To order online click here.
Go green
Stock up on fresh limes while they're in season - last week they were cheaper than lemons in the local supermarket. Be a smart Kiwi - squeeze and freeze.
Put it on the list
* It doesn't get more pure than the new grape juice from Heron's Flight Vineyard. Their new drinks are made from sangiovese and merlot grapes. Delicious with ice for non-drinkers, or mixed with vodka into a refreshing cocktail. They cost $5.50 and can be bought online from their website.
* The newest addition to The Collective's family of dairy treats is Straight Up, an unsweetened, smooth and creamy yoghurt, perfect for baking. $7.49, from all good stores.
* For an instant party pleaser, try Fressure Foods All Natural Guacamole. Thanks to ultra-high pressure technology this tasty dip made with avocado and fresh herbs and with no additives lasts in the fridge and is simple to serve. From $3.99 at major supermarkets.
* If you're in soup making mode at the moment, then make your job a little easier - and the final result a little tastier - with Massel liquid stocks. No animal products are used but they look and taste like animal-based stocks, plus there are no added preservatives or enhancers, no MSG, trans fats, gluten or lactose. The Massel range are halal and kosher certified. Priced from $4.99 at most supermarkets.