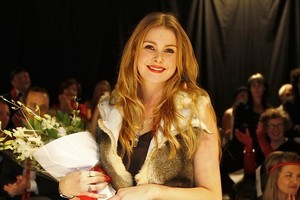 It's hard to be a young designer in New Zealand right now, but the Westpac Young Fashion Designer competition is looking to help out those who are starting out in the industry. The competition returns for another year, with entries now open to students who are currently completing a New Zealand fashion-based tertiary course or who have graduated from one within the past four years. The winner will take away $5000 in a Westpac business account, mentoring from a New Zealand designer and invaluable business advice from an expert - and three finalists who get the most public votes (or "likes") on Facebook will get the opportunity to show their collections at New Zealand Fashion Week on September 1. It offers a good start into the industry - last year's winner Jess Britten now works as the production manager at Lonely Hearts. Entries close July 28, with semi-finalists announced on Facebook on August 3. For more information and competition details, email youngdesigner@westpac.co.nz or visit the Facebook page.
Helping hand
The Warehouse has created two special sterling silver pendants to support Christchurch, each featuring the iconic Christchurch Cathedral. Each pendant is $29.99, from 50 per cent of the purchase price being donated to St John to help them in their relief efforts in the troubled southern city.
A wardrobe refresh
Starfish is further embracing its eco-friendly take on fashion with a great new initiative that will allow customers to refresh their wardrobes by trading in pre-loved Starfish or Laurie Foon garments and receiving a 50 per cent discount on the original retail price of the winter 2011 collection. Starting tomorrow and running until July 17, the initiative will see selected exchanged stock become an in-store vintage rack, and the rest donated to Wellington charity Eva's Attic.
New Pandora
Have a passion for Pandora? Then you will be excited to hear they have launched new bracelets that allow for unique personalisation like the original Pandora charm bracelets. The new styles - the clip ($125) and the chain ($155) - are simple, with fixed clips that attach to the bracelet to celebrate special moments in your life. Charms are $49. Available from selected Pandora stockists now, ph 0508 NZPANDORA.
Dark and lovely
Fashion pop-up sale store The Darkroom returns this weekend, with heavily discounted pieces from labels including Nom*d, Lonely Hearts, Deadly Ponies, Deborah Sweeney, Twenty-seven Names, Jimmy D, Bernhard Willhelm, Romance was Born, Ann-Sofie Back and more. This season's sale is a collaboration between boutique Children of Vision, fashion label Jimmy D, online store General Cucumber, and recently closed vintage institution Fast & Loose. Owner Charlotte Rust has selected a range of vintage pieces that will be on sale at The Darkroom - located upstairs at 145 K Rd (next to Paper Bag Princess), Newton, Auckland. Friday July 8, 10am to 7pm; Saturday July 9, 10am to 5pm; Sunday July 10, 11am to 4pm.
Kate in Kiwi?
The Duchess of Cambridge seems to have had a royal fashion makeover, wearing Erdem in Canada, Alexander McQueen on the palace balcony, and carrying a Mulberry handbag at the airport. And according to the always reliable Daily Mail, she has been spotted in New Zealand-born, London based designer Emila Wickstead's boutique, "where she bought off-the-peg".
Upcycle it
High St gallery and store House of Hedone is holding an exhibition of upcycled and recycled garments, jewellery and more. The three-day exhibition and sale begins at 8pm this Friday, and will be open over the weekend too.
Fashionable rights
Our own fashion week may no longer have a naming rights sponsor, but our neighbours across the ditch have just welcomed back one from the past. Formerly known as Rosemount Australian Fashion Week, the fashion event will now revert back to its original title of Mercedes-Benz Australian Fashion Week. The marque was the original sponsor when the week was established in 2006, before the title passed to Rosemount in 2006.
Goodbye Galliano
Bill Gaytten has been announced as the new creative director at John Galliano, as the brand's namesake awaits his fate after appearing in court last week to face charges for alleged racist and anti-Semitic remarks.
French in Takapuna
The Department Store has become more inviting, with the addition of La Boulange cafe at the front of the eclectic Takapuna outlet. Have a cafe au lait and a pain au chocolat before checking out the latest fashion, homewares and beauty goods, including latest deliveries from Topshop and the new Nature Baby corner.
Question It
Want to know exactly what is in your cleaning, body, beauty and baby products? We have laws around this for food but nothing for other products. A social networking campaign starts today to encourage people to "Opt Out" of being a guinea pig. Click on the link for more information.