Shopping at farmers' markets feeds the heart, mind, soul and stomach. Kirsten Warner checked out some of the best products and top stallholders, just a sample of the many treats on offer.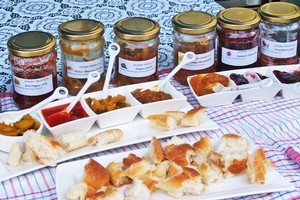 Home-grown, hand-made, freshly picked and the fat of the land - farmers' market produce is a revelation. The national Taste Farmers' Market awards will be announced tomorrow and market producers and farmers have been battling it out.
This new-generation of "peasants" are only too willing to talk about their goat's milk camembert, pomegranate paste or microgreens. Many of the dedicated artisan producers have ditched professional jobs and business careers for a life on the land.
Here's a taste of just some gourmet goodies from the many that we've found.
* Awards judges said they would go back for seconds and thirds of meat from Wholly Cow, Tom and Carrie Andrews's 190-hectare farm near Lake Karapiro, and said they could really taste the passion for growing good, tender animals: "Great marbling, a pleasure to cook with, stunning colour." These salt-of-the-earth farmers follow organic principles, although not certified organic, and believe wholeheartedly in a healthy soil-healthy animal philosophy.
That means no drenching apart from an apple cider-garlic-vinegar concoction, all natural fertilisers and only spot thistle spraying as required. Their prices are competitive with supermarket meat. The whole family (kids aged 8, 10, 12 and 14) help out at farmers' markets every weekend of the year (Hamilton, Cambridge and Tauranga). It's constant but social, says Tom, "and you get to know who's got the best produce".
* Bay Quality Fish Smokers from Tauranga impressed the judges with their traditionally smoked fish. Customers comment on how the product reminds them of their childhood. The fish is hot wood smoked using methods passed down from Kevin Jarrett's grandfather. The smoking process contains no additives, preservatives, flavourings and dyes. "We believe in smoking fish from fresh not frozen and the fish is smoked the day before sale," Kevin says. Thirty five-plus years as a commercial fisherman took its toll on Kevin's body, which is when he and his wife Carole developed their product, sold by their daughter Chloe at the Tauranga Farmers' Market every Saturday. "The farmers' market offers a completely different shopping experience. Over time you get to know your regulars and they become good friends," says Chloe.
* Free-grazing, riverine water buffalo are milked for Clevedon Valley Buffalo Company's fresh mozzarella (for real pizza) ricotta and yoghurt. Helen and Richard Dorresteyn also process buffalo steers into prime cuts and small goods for sale at Clevedon Farmers' Market (which Helen started and they run). Knowledgeable local mum and great cook Talia Willis, from the factory team, may be on the stall. Helen adores her 160 enormously friendly buffalo, and says being licked by a massive, slobbery tongue is one of life's great experiences. So is her yoghurt, according to Taste Awards judges, flavoured with local zesty villafranca lemons and Heilala vanilla from a Tongan-New Zealand joint venture: "Oh the vanilla, great, amazing," said one, and "just perfect," said another.
Helen says buffalo milk has twice the protein, twice the calcium and half the cholesterol of cows milk, is A2, tastes pleasant and is often suitable for those who are cow's milk intolerant. The mozzarella is prized by high-end chefs and delis, who have found the product through the farmers' markets. Buffalo blue cheese is a clean and sharp-tasting sensation.
* The Salmon Man Ron Aratema's gremolata salmon - smoked with oak wood, flavoured with dill, lemon and parsley with a hit of pepper - is melt-in-your mouth. Tom buys Stewart Island sea-run rather than fresh water farmed salmon - he can taste the difference. It arrives at 4am on Tuesday and is filleted, pin boned, cured, smoked and into the chiller the same day ready for vacuum packing the next. It only needs a simple salt and sugar cure and hot smoke: "You get that lovely almost creamy smooth consistency."
Why farmers' rather than other markets? "It's a fit. The focus is on good, honest food, so the produce guy alongside has been up at the same time as me, picking lettuces to sell that day." He sells some product retail, but gets a better return at markets. "The customer gets a much better price too and gets an excellent quality product from someone who's quite devoted to what he's doing." Tom's salmon is available at Britomart, Grey Lynn, Oratia, Hobsonville, Hamilton and Cambridge farmers' markets.
* From bee husbandry, to harvesting, processing, packing and point of sale, artisan producers Martin and Stephanie Lynch are involved in every aspect of their Vitality Bee Products honey and bee pollen. Martin (who works full-time as an electrical engineer) handles the hives and Stephanie (a software data analyst) the rest. With two small children, they can attend only Hamilton Farmers' Market, but it's important for sales and profile. "People tell us how much they enjoy the honeys and the flavours, it gives us a real boost for the week," says Stephanie. Awards judges loved their honey's regional flavours (floral, tart, caramel-y) harvested in spring and summer from manuka, rata, rewarewa and kanuka at Marokopa Valley near Waitomo and their own Horsham Downs property. The family is buzzing with good health: the children eat a teaspoon of bee pollen every morning.
* There's something wonderfully old-fashioned about the pickles and preserves made by Kathy Lister and sold by her husband Terry at Clevedon and Parnell farmers' markets. Even their Listers' Products business card looks home-made. But Kathy's commercial kitchen is A-grade and so are the flavours of their Waiuku-grown tamarillo, feijoa, citrus, rhubarb, passionfruit and fig jams and relishes.
* Stuart Eyre's family have farmed 566 hectares at Pepepe in the north-west Waikato for four generations. "We want it here for a fifth generation," says his wife Helen Eyre. Now using only sustainable farming methods - organic where possible, hormone free, grass fed, free range - their Waipuna Farm Fresh meat epitomises paddock to plate (available at Clevedon Farmers' Market). "We got really disillusioned seeing a lot of the stock we were killing going off for export trade. We started thinking why is that New Zealanders can not have this quality product at an affordable price?" Their lamb rack stood out for judges as iconic New Zealand lamb. Carolyn Eyre is not surprised. "Customers want to know what they are eating, how it was farmed, if it was cared for humanely, how long we fatten animals. We can talk with confidence about all that. If you are not completely satisfied with the product we want to know and will offer a replacement or your money back."
* Crack one of Sunset Free Range Poultry's free-range eggs and the yolks are bright orange. This New Zealand-laid company is run by two young families with a commitment to animal welfare. When Gareth and Anita Manning shifted to a 7.5ha property, Waipipi, 50 minutes south-west of Auckland with their three young boys, they created a vege garden, bought a flock of hobby chickens and were soon offloading excess eggs to family, friends and workmates. Two years ago the Mannings joined forces with Craig and Kim Wilcox and now have a total of 6000 Brown Shavers - good layers favoured by free range farmers.
Their farms are SPCA audited to ensure paddocks are not over-populated, there's good grass cover so poultry can have dust baths, run, flap and eat bugs, and plenty of feeders, drinkers and nest boxes. Gareth's parents Rosita and Noel Manning take the eggs to Oratia and Parnell farmers' markets.
The best of the best:
Bay Quality Fish Smokers, 027 2098 365.
Clevedon Valley Buffalo Company, 09 292 8513.
Listers' Products, 09 235 3227, kathyl.terryl@xtraco.nz
Sunset Freerange Poultry, (09) 235 8201.
The Salmon Man, 09 828 8074 or 021 26 22 513.
Vitality Bee Products, 07 829 4405.
Wholly Cow, 078270727 or 0274 992 871 or whollycow@xtra.co.nz
Farmers' markets near you
Not all markets are authentic farmers' markets. To be certified as authentic, least 80 per cent of the stall holders should be grower/producers, the producer is the seller, and the food is produced locally. The principle is to support the sustainability and viability of local farming. Put simply, "no farms, no food". Click here for the complete list.
Northland and Auckland
Saturdays:
* Matakana Village Farmers' Market, 2 Matakana Valley Rd, Matakana, 8am to 1pm
* The City Farmers' Market at Britomart, cnr of Galway and Gore Sts, 8:30am to 12:30pm
* Parnell Farmers' Market, Jubilee Building carpark, 545 Parnell Rd, 8am to 12pm
* Oratia Farmers' Markets, 99 Parrs Cross Rd, Oratia, 9am to 12pm.
Sundays:
* Bay of Islands Farmers' Markets, Hobson Ave, Kerikeri, 8.30am to 12pm
* Hobsonville Pt Farmers' Market, cnr Buckley Ave and Hastings Cres, 9am to 1pm
* Orewa Beach Farmers' Market, Orewa Square, 8am to 12:30pm
* Clevedon Village Farmers' Market, Clevedon A&P Showgrounds, 8.30am to 12pm
* Grey Lynn Farmers' Market, 510 Richmond Rd, 9am to 12.30pm
Waikato and Bay of Plenty
Saturday:
* Tauranga Farmers' Market, Tauranga Primary School, 7.45am to 12 pm
* Cambridge Farmers' Market, Town Square, 8am to 12 pm
Sunday:
Hamilton Farmers' Market, Sonning carpark, River Rd, 8am to 12pm