Mandarins are delightfully easy to grow. Justin Newcombe extols the virtues of these little spheres of Vitamin C.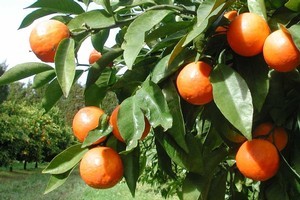 My clementine mandarin has really outdone itself this year, producing a bumper crop of fist-sized (albeit a child-sized fist) packages of vitamin C, and with winter looming, the timing couldn't be better. In spite of all the unseasonal weather patterns, nature has somehow provided.
Mandarins are famous for being the sweetest-tasting of the citrus family. Add to this that they are high in vitamin C and copper, as well as easy to peel and often seedless, and it's not surprising that they have become one of the darlings of the fruit world.
Mandarins have been cultivated in China for more than 3000 years but did not reach Europe and North America until the 19th century. Two varieties from Canton were taken to England in 1805 and by 1850 they had migrated to Italy. From there they were imported to New Orleans and subsequently made their way to Florida, and later California.
The name mandarin refers to the bright orange robes worn by the Mandarins, the public officials of the Chinese court. Even today during Chinese New Year, mandarins are considered symbols of abundance and good fortune.
There are dozens of different varieties, many with different fruiting times, so with a bit of planning you could have high quality, free fruit from your own small orchard for a good part of the year. Mandarins are generous croppers and compact enough that even smaller gardens can accommodate a couple of specimens. The satsuma is perhaps the most well-known mandarin and is thought to have originated in Japan about 300 years ago. But with all those regulation satsumas lining up at the supermarket there is definitely scope to try some of the less well known varieties. A quick browse through specialist nursery websites yielded an awesome range of other types such as aoshima, burgess scarlett, okitsu wase, and thorny to name but a few.
Mandarins prefer a subtropical to mild-temperate climate so if you have a nice sunny, sheltered spot that isn't going to be compromised by a hoary frost or, heaven forbid, a snow drift, then consider planting a mandarin as one of this month's winter garden tasks. Drainage is important so you might want to add a bit of coarse sand or fine pumice when planting if you have a heavier soil. In addition to this, your mandarin will thank you for a good serving of well-rotted compost. A small stake might be in order for slightly larger trees. Citrus are notoriously heavy feeders but it has been said that mandarins are less greedy than other members of their extended citrus family. Our clementine seems to have benefited from the endless supply of chook manure it is subjected to in the chicken run.
Commercial citrus preparations are available, however, which provide a quick fix. Like all citrus, mandarins are prone to the odd outbreak of white fly which we combat with the perennial, all-purpose solution of oil and garden friendly detergent, sprayed on and under the leaves at regular intervals until the outbreak subsides.
3 of the best: Uses for ponga logs
Mulch stopper
If you can't get your mulch to stay on the bank, lay a few of these puppies on their sides and watch gravity being defied before your eyes. You could alway just use the force (a la Star Wars) but that's so 1970s and this is the future.
Raised veggie garden
If done right herbs and even strawberries will grow on this woolly border.
Fences
How many times did I accompany my father for a trench-digging and ponga-installing working bee in the 1970s? Twice actually.