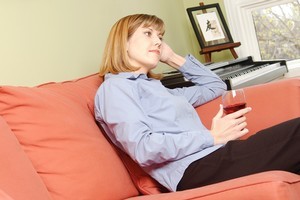 Two US-based wine labels 'MommyJuice' and 'Mommy's Time Out' recently went to court to fight over rights to the word 'mommy'. Mothers, it seems, are hot property in the ultra-competitive world of wine marketing.
Urban Dictionary defines 'mommy juice', which appears between 'mommy jam' and 'mommy knockers' as "a drink for a mom ... tired of dealing with her screaming kids".
The MommyJuice wine brand was established by Cheryl Durzy whose children evidently used to point at wine glasses and say: "That's Mommy's juice!" And so a new label, aimed squarely at frazzled mothers, was born.
"Being a Mom is a constant juggling act. Whether it's play-dates and homework, diapers and burp cloths, or finding that perfect balance between work and home, Moms everywhere deserve a break. So tuck your kids into bed, sit down and have a glass of MommyJuice - because you deserve it!" proclaims the website.
Indeed there seems to be an undeniable connection between becoming a mother and becoming a drinker. I can't remember what we used to do in the evenings before we had a baby. It's so long ago.
Presumably we went for walks, visited friends, saw a movie or maybe had an ice-cream at Mission Bay. But parenthood changed all that.
Once seven o'clock rocked around and the baby was tucked up in her cot, unless we'd arranged a nanny or babysitter, we were virtual prisoners in our own home. With hours of evening stretching out ahead of us it quickly became a habit to open a bottle of wine.
As the TODAYMoms website so eloquently says: "[Drinking is] a way to draw a line and reclaim a bit of your non-mommy identity."
In my daughter's first year of school, a group of us mothers befriended each other and - surprise, surprise - we quickly discovered we shared a fondness for wine.
Three years on and we continue to exchange alcohol-soaked text messages such as: "Just about to open a cheeky bottle of bubbles," "Large chardonnay poured" and "Sore head today!"
California-based blogger Stefanie Wilder-Taylor wrote two books celebrating alcohol-assisted motherhood: Sippy Cups Are Not for Chardonnay and Naptime is the New Happy Hour before giving up drinking.
Rachael Brownell's book Mommy doesn't drink here anymore charts another woman's "journey from cocktail mama to sober mama".
MommyJuice may have tapped into a modern day truth about how some mothers unwind at the end of the day - over 400,000 people 'like' the Facebook group: 'Moms who need wine' - but there's something inherently twee and faintly patronising about taking such blatant aim at this market.
Surely they could have been a little more subtle. I certainly have no plans to swig from a bottle with a label featuring a woman juggling a house, a teddy bear and a computer.
I'll be sticking to my usual wine.