Constructing a house for your hound is a fun afternoon's activity for you and the children. By Greig Morgan.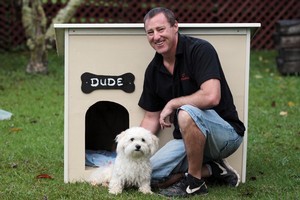 Just over a year ago we went out to look for new beds for the kids. We came home with a dog. I don't quite know how it happened - I recall bored kids at traffic lights, a pet shop and cries of "Aw dad, can we get one, pleeease!!!"
If we were going to get a dog, I didn't want a small, cute one. "I can't go to the park with one like that, the whole soccer club will laugh at me," I said. But I was overruled. So Dude came to live with us. He's quite happy sleeping inside, but one cold Sunday I asked the kids what they'd like to do and my daughter Eden said, "Can we build a doghouse?" So we got straight on to it - drew up a plan (after measuring Dude and adding enough room for him to be cosy), wrote a list of materials and tools we would need, and got to work.
It didn't take long to build (even with Eden and her brother Jamie helping), and now our furry friend has his own shelter from the cold in winter, and the heat in summer. The kennel was a great project to do with kids. Now I just have to get the dog to use it.
Step 1
Cut ply to size for the floor (ours was 1m x 700mm). Cut 100 x 75mm floor framing to the size of ply floor. Using 75mm screws, screw frame together. Using 32mm screws, screw floor frame to ply floor.
Step 2
Cut 50 x 50mm vertical corner posts to length so that the roof will slope slightly to let water run off. We made the rear side 600mm high, and the front 800mm high. Screw your four corner posts to the floor.
Cut four lengths of horizontal framing for the top of the box, two to fit the width and two to fit the length, then screw to the corner posts.
Cut two lengths of 50 x 50mm timber as supports along the length of the box, one for the high side, one for low side. Screw into place.
Step 3
Using a skill saw or hand saw, cut the ply walls to the shape of your frame. Use a jigsaw or narrow hand saw to cut out the entrance. Screw the ply walls to the framing using 32mm screws.
Step 4
Cut the ply roof to size, allowing at least 50mm overhang around the whole box.
Cut and install a 50 x 50mm brace across the top of the box from front to back, as a support for the centre of the roof. Screw down the roof.
Step 5
Paint your dog house and, if you like a finished look, use external angle capping for the roof.
Cut the capping to length for the four sides of the roof, then nail it on. Put your dog's favourite blanket inside his new house, with a toy and treat, and hopefully he'll be using his quarters in no time.
Materials
2 sheets of ply H3
Downgrade 2400 x 1200 x 9mm
2 posts at 2100 long x 100 x 75mm (for the floor)
11 lengths of 1m long 50 x 50 H3 (for framing)
2 lengths of 3200 long external angle 16mm (for corners and roof trim)
1 pack screws 8g x 32mm 1 pack screws 10g x 75mm
1 pack nails 40mm galvanized
Paint and brush
Capping (optional)
Tools
Skill saw or hand saw
Screw gun
Jigsaw or narrow handsaw
Hammer
* Greig is a cabinetmaker by trade, who now runs his own landscaping business, GT Landscapes.