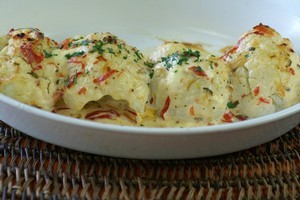 Soup kitchen
For a fast and stylish first course or satisfying lunch, simmer cauliflower in chicken stock, blend with a stick blender and stir through crumbled blue cheese, cream or both. Ring the changes with curry powder, a squeeze of lemon or thicken with potatoes.
Roast day
Cauli caramelises beautifully when roasted in oil. Garnish with toasted walnuts or almonds, salty capers, fried bacon or pancetta, add paprika or ground pepper. Beautiful too in a warm salad with beans and a lemony dressing.
Currying favour
Quickly fry curry paste, add cauliflower and steamed potatoes and use either vegetable stock or a dash of coconut cream for a fast vegetarian dinner.