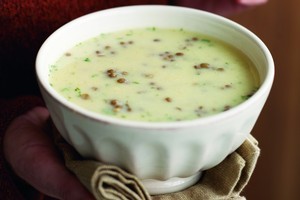 1. Delite Soup & Juice Bar
37 Chancery St, Auckland Central Auckland City, (09) 309 3006 Mon-Fri 8:30am-4:30pm
Check out the daily specials of winter favourites including pumpkin, kumara and carrot, chicken and vegetable, leek and potato or broccoli soups for $5.50 or $6.50 a heart-warming cup.
2. Revive
33 Lorne St Ph (09) 303 0429 or 16 Fort St Ph (09) 307 1586 Mon-Thu 11am-8pm, Fri 11am-3pm
With daily menu specials, gluten-free and vegan options and membership discounts, both Revives draw the crowds. Check out the Thai pumpkin, Indian lentil or carrot and coriander (all with salad and bun. $11.90 in/$10.90 out).
3. Vinyl Coffee Shop
218 Dominion Road, Mt Eden. Ph (09) 623 3821 Mon-Fri 7am-3.30pm, Sat-Sun 9am-3pm
A groovy location. Vegan and dairy-free specialities include roast pumpkin, ginger, coriander and coconut soup (the dairy version has cream) or red lentil vegetable soup.
Meat-eaters love the minestrone or chicken sweetcorn. Soup to eat in or take out, with toasted ciabatta $9.50.
4. KK Malaysian Restaurant
463A Manukau Rd, Epsom, Auckland.
Mamak-style laksa with just the right spices and coconut creaminess and just the right tastes of home means homesick Malaysians make a bee-line for this comfort soup.