Get your bling on to enjoy the higher end delights of the vinous scale.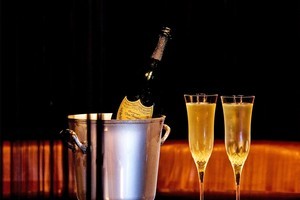 Got the Roly on my arm and I'm pouring Chandon," rapped Snoop Dogg, name checking his favourite timepiece and tipple. For most drinkers, wine may now be an affordable everyday item, but for rich folk like Dogg, with a thirst for status symbols or an appreciation of finer things, top dollars are being paid for luxury wines.
Champagne is the most obvious name in vinous luxury. In fact, Moet & Chandon is up there in the top 10 of the world's most powerful luxury brands, according brand strategists and financial consultants, Millward Brown Optimor.
As with the top fashion labels, champagne now has a diverse consumer base, something that makes some houses uneasy. A few years back, the rapper Jay-Z who likes to "sip fine wines and spit vintage flows" took offence to comments made by the president of Louis Roederer - maker of the Cristal champagne he mentions in a number of his songs - who suggested the house didn't welcome the interest of the hip-hop set. Accusing Roederer of racism, Jay-Z called for a boycott of the brand and switched allegiances to another label.
Like all luxury brands, what gives super-premium wines their status is their desirability, paired with their exclusivity, plus a limited supply and high demand that dictates their often dizzying price tags.
They may have achieved their position through their quality and will have had high levels of attention lavished on them in their making, but what's being paid for is the whole package. This includes the prestige of the label, its pedigree and its relative rarity, often helped along by clever marketing. Less hyped names can offer similar or even greater levels of enjoyment for often far less expenditure.
When it comes to luxury or super-premium wines beyond champagne, names that roll off the tongue include the likes of Chateau d'Yquem, Bordeaux First Growths and New World icons, such as Penfold's Grange. Here in New Zealand we have our own small cache of luxury brands, such as Stonyridge Larose, Dry River and newcomer Vinoptima, whose big reputations and tight allocations means fans often need to get on their mailing lists to secure their bottles, or in the case of Larose, be a member of its VIP club to buy it en primeur before it's even been bottled.
Those who welcome this tiny but expanding tier of New Zealand wine regard it as displaying a well-placed confidence in the quality of the wines we're producing. However, there are those who consider costly cult wines inappropriate in our fledgling industry. Meanwhile. enjoy our great wines while they're still relative bargains, before you have to be as rich as Snoop Dogg to buy them.
LUXURY LABELS
This top trio really do deliver something distinctive and special for those with the money and motivation.
KIWI ICON
Stonyridge Larose Waiheke Island 2009 $190
Since Stonyridge launched its flagship red, Larose, in 1985 it's gone on to become one of New Zealand's most celebrated and collectable wines. The latest vintage of this cabernet sauvignon-dominated blend has ripe, concentrated but restrained black plum and dark berry fruit, joined by subtle hints of spice, herb liquorice and dark chocolate, framed by fine oak and tannins. (From Glengarry.)
THE CABERNET GRANGE
Penfolds Bin 707, Australia 2008 $199
It's the shiraz-dominated Grange that's regarded as the top label in Penfolds' premium stable, but in its latest flagship releases the cabernet-based Bin 707 really shines. It's a fantastic example of a rich Aussie cabernet, with opulent and satin-like blackcurrant liqueur fruit, infused with roasted spice, cedar and mint and underpinned by an elegant freshness and savoury complexity. (From Glengarry, Fine Wine Delivery Company, Caro's and other selected fine wine retailers.)
PRESTIGE PLAYER
Champagne Dom Perignon 2002 $249
A stunning vintage which achieves a thrilling balance between intensity and finesse, wrapping notes of subtle sweet pastry, lemon zest and savoury around its tightly wound core of chalky mineral and citrus. (From Glengarry and other fine wine retailers.)