Herald on Sunday rating: 4.5/5
Address: 463a Manukau Road
Ph: (09) 630 3555
Websites: kkmalaysia.co.nz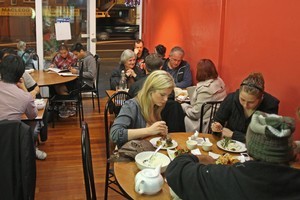 KK Malaysian's menu contains just one spelling mistake: the word "julienne" - an adjective that derives from French cuisine and is used to describe vegetables cut into very thin strips - is several times reproduced as "julience".
But here's the thing: the menu is the work of somebody for whom English is not a native language. As a result, the verb forms can be comically mangled: the Asam fish promises "fruity and refreshing flavours sauce serve on the whole snapper"; the beef rendang is billed as containing "carefully choose eye round pieces". But you know what they mean. And, at the risk of repeating myself, they have taken great care with spelling words like "desiccated" and "vinaigrette".
I mention this because much simpler words are routinely mangled on menus written by Anglophone New Zealanders. I've given up pointing infractions out to waiting staff, since it typically induces a shrug and a sneering "whatever".
Who cares, you might ask. You're here to eat the food, not parse it. But in the restaurant business, as in any other, details matter. It's true that few people will be offended by sloppy menu spelling, but no one has ever been offended by correct spelling.
And if the proprietor hasn't bothered to proofread the menu, you have to wonder what kind of care is being exercised in the kitchen, don't you?
They're plainly exercising a lot of care in the crowded, busy kitchen at KK, because the food is sensational. The decor, which is limited to tables and chairs, could most charitably be described as absent, but we were there for the tucker. It seemed like a good way of saying farewell to May-laysia, a month-long celebration (see website above) of Malaysian cuisine.
Regular readers will know that the month started unprepossessingly - let's not go there, as I suggested at the time - but Malaysian food is the product of one of the world's most vibrant and productively promiscuous cuisines and deserves a better send-off.
This city is not short of good Malaysian eateries. I've sung the praises of Sri Pinang in K Rd, Bunga Raya in New Lynn, Cinta in Dominion Rd and Navas in Ponsonby Rd.
But good reports, including stories of people queuing on the footpath, kept reaching me of KK. So three mates and I showed up on a cold and windy midweek night.
A waiter nodded and smiled when I said I had a reservation - and promptly walked out. But he wasn't being rude: the restaurant occupies two shop spaces with no connecting door and waiters carry food from one to the other along the footpath.
He was quickly back to announce that our table was ready and we were soon seated next door over a quartet of Tiger beers while we digested the menu.
It's divided into beef, pork, chicken and seafood (the largest) section, though a note at the beginning suggests that vegetarians (and allergy sufferers) will be well looked-after. We chose widely - avoiding the spring rolls and other appetisers and moving straight to the main event - and were deeply impressed with everything.
It arrived in a slightly random order - the beans first, the whole fish last, the rice only when asked for - but who cares when the food's this good?
The beef rendang (a Malay classic) was meltingly succulent and richly redolent of coconut; an enormous whole Asam fish (named after the Malay word for the tamarind that features so strongly) was a richly exotic meal in itself; the sambal (chilli) squid soft and tender.
My personal favourite - worth stopping for if you're in the neighbourhood - was a sambal eggplant dish whose exact ingredients I failed to note but which managed to highlight the tenderness of that sublime vegetable while achieving a crispness that suggested some inventive preparation.
The food bill, less than $30 a head for a sumptuous feed, seemed almost absurdly low. No wonder that, as we left, small groups of people gathered on the footpath, waiting for the next free table. If they were regulars, they won't thank me for saying so, but this place is as good as it gets.
Ambience: What's that? A French perfume?
Vegetarians: "Please ask for the options".
Watch out for: The queue.
Bottom line: Great food, good value. That's it.
THE BILL
$154 for four
Beef rendang: $20
Asam fish: $32
Sambal squid: $22
KK eggplant: $18
Garlic beans: $18
Rice: $4
Beers (8): $40