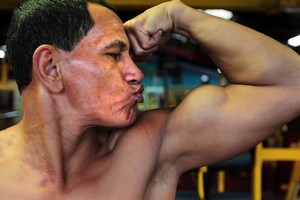 A high-profile personal trainer has inflamed the plus-size model debate - saying he wouldn't trust one to save him in a fire.
Kim Taihuka has infuriated fitness experts and eating disorder specialists by saying a woman of average height should weigh less than 60kg.
The former Mr New Zealand, whose clients have included an NBA star and the New Zealand women's touch rugby team, said: "I wouldn't trust a plus-size model to save me in an emergency. If there was a fit, healthy woman I would trust her."
Taihuka waded into the plus-size row after TV3 show New Zealand's Next Top Model confirmed five plus-sized applicants had made it through auditions of the reality show.
Next Top Model boss Andrew Szusterman dismissed the outburst, which defied Ministry of Health guidelines.
"Someone who weighs 55-60kg and is 170cm tall falls within the normal weight category - not what I would classify as big," he said.
"Unfortunately, he seems to have a narrow view of what health and beauty is - thankfully New Zealand's Next Top Model doesn't share that view."
Eating Difficulties Education Network spokeswoman Victoria Marsden said Taihuka's views added to "huge" problems of self image.
"It absolutely promotes over-exercising, restricting, dieting, exercising more at the gym, diet pills and eating issues," she said.
"Only about 20 per cent of women feel happy with their body so 80 per cent don't, which is really worrying."
Former Auckland mayor and gym owner Les Mills described it as a "bit of a dopey thing to say".
"Certainly good health can go very easily with a size 8 or a size 16 - it depends on what people are doing with their health, like exercise and the food they're eating," he said.
"When I see models who are verging on anorexic I think they're setting a bad example and people who are grossly obese are a bad example."
Personal trainer Jane McDonough said it wasn't realistic to say all women could be 60kg or less - different ethnicities and lifestyles played a role.
"I think it's more than hard work. I've trained people who are good and healthy but they're definitely not 55-60kg," she said.
According to the Body Mass Index, anyone 1.7m tall and weighing 70kg is healthy.
Taihuka, 49, described American talk-show queen Oprah Winfrey as "the worst role model on the planet" because of her weight.