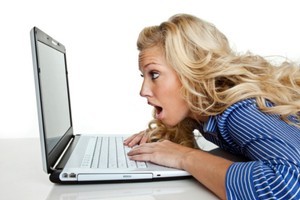 The nice man had come to fix my computer. "Please excuse the mess. I'm finishing a book," I said to him.
He was trying to put a new hard drive and a new screen into my laptop in the kitchen, while surrounded by bags of flour and jars of aloe vera and glycerine.
"I'm just testing recipes for the book, so don't worry about me."
He didn't say a word but it was clear he thought he had arrived in the land of the crazy woman.
It didn't help that on his worksheet I'm sure there was a secret rating, warning him I was terrifying.
On a scale of 1 to 10 ranking abusive customers, my performance during the past week on the support line for the manufacturer of my laptop would rate a 15; mainly because my laptop had collapsed on me at a pivotal time in my book-writing process. I was two chapters away from finishing when the right side of my screen blanked out, meaning I had to write about 10,000 words on a page I could only see half of.
I rang the helpline and explained the problem.
"It's broken, it's under warranty so where do I drop it off and pick up a new one?" I asked politely.
"Can you just do a few things for me?" said the man, whose name was James and sounded American and I think was in Bombay.
"Sure," I said, using up my last precious reserves of generosity.
Two hours later I was still doing a few things for him. When he asked me to spend a few more hours running diagnostics, he got it full force. "So what I'm doing is fixing my computer for you in my time," I said.
"We just need to know what's going on ," he said.
"This is the third time I've done this with you guys since I bought the computer and this is the third time I've spent hours of my time," I explained. "I don't have any time for you. I am on a deadline. And, on my hourly rate, the money I have not earned while fixing my computer for you could have bought me a new, fully functioning laptop."
There was silence at the other end as he hit the red button signalling he had a live one on the line.
"We just need to know which parts of the computer need to be fixed," he said.
"I can tell you that. The screen doesn't work. So tick that box. Screen broken. Computer not working. And how about you tick the box which says: Replace immediately as it is under warranty!"
"I'm sorry you're upset," he said.
And that was it. When someone apologises for upsetting me it just gives me the right to ramp it up another notch. Don't ask me why. It's just always been the way.
"And another thing," I said. "I happen to be very active on social networking. I have 3000 followers across Twitter and Facebook so I tell you what I'm going to do. I'm going to hang up and start feeding my experiences with your company into that channel and let's see what you can do about that," I finished triumphantly.
There was more silence and possibly a snigger. With 3000 followers, I'm not exactly Lady Gaga. In fact, in Bombay or possibly any other country in the world, 3000 followers on social media is a drop in the bucket when it comes to ruining the reputation of a large multi-national computer company.
"I'm just going to talk to my supervisor," said James, as I once again waited on the end of the line, fuming and composing in my head my first damning 140-character Twitter entry. And then he was back.
"I've just had a heated debate with my boss and we'll send around a technician to repair your laptop in the next few days."
"So you're not going to replace it," I said.
"No, because this way we are not filling landfills with broken computers," said James. "I thought you'd approve of that."
And then I realised James and his supervisor had not been having a heated debate. They had been googling me and having a laugh at my green goddess website.
"Yes, well, that's right. Recycle whenever you can. Thank you James," was all I could think to say before I hung up and sent a tweet, which would go out to my 3002 followers.