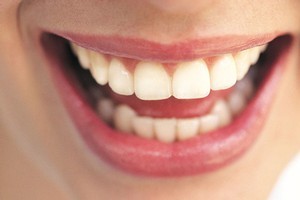 A routine teeth-whitening procedure at a local beauty salon left an Adelaide woman bruised, blistered and unable to brush her teeth for a month.
Felecia Williams is one of many victims of untrained retailers who offer cheap whitening procedures to lure customers, dentists say.
"It was instant pain," Ms Williams said of the procedure, which she had performed in December after being given a gift voucher at work and which resulted in badly cut gums.
"(The beautician) actually said it was normal ... I put it (bleach) back in and sat through 30 minutes of absolute pain," Ms Williams told journalists in Adelaide on Wednesday.
"The pain was immense ... it was a month before I could brush my teeth properly."
SA Dental Association president Angela Pierce warned consumers they were putting themselves at risk by having their teeth whitened by non-dentists.
"If you're getting a bargain basement prices, you're probably getting a bargain basement service as well," she said.
Ms Pierce said the use of peroxide at unsafe levels could result in laceration and blistering of gums, damaged enamel and discolouration.
"We're seeing more and more people come in with more problems with industrial use of teeth bleachers," she said.
Ms Williams said pain, lack of gum protectors and an oral examination should ring alarm bells for consumers at beauty shops.
"If you feel any pain at all it is not normal - definitely go to a dentist."
- AAP