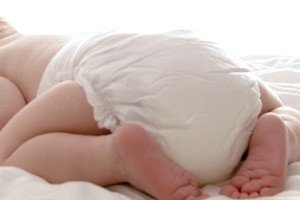 Imagine if you will, chafing so raw and violent that it stings even when you walk bow legged. You know the sort, like the graze-like rubbing those old nylon rugby shorts used to give us young fellas in the 80s.
Well, that's what my eight-week-old's nappy rash is like - only worse because it won't go away and it's more widespread.
I know she'll probably hate me for writing this when it crops up in a speech at her 21st but she's got the rash, and the poor wee sausage has got it bad.
My eldest, Mia, got the evil rash too. It's not like my wife and I eat lots of feijoas and have passed our acidic blood on to our little ones. It's just that some kids have sensitive skin and are susceptible to it, according to our doctor and a dermatologist we took Katie to this week. So it's something we have to live with.
Mia's struck with stinging vengeance when we were away on our first holiday as a family in tropical North Queensland.
Oh what fun that was. Of course, the humidity was so high that her nappy rash never had a chance of healing. We spent most of the holiday holed up in the apartment with her running around nappy-free doing her thing on the floor.
Luckily we had lots of vino and dozens of bargain-price prawns from the fish market to see us through. Still, it would have been nice to go snorkelling and see some sights.
If it's extreme enough, nappy rash can really cramp your style as a family.
It stops you from doing a lot of things. At the moment it's easier (and safer) for us to go for a walk around the neighbourhood with the pram than to jump in the car and go somewhere because if number twos strike when she's buckled into the car seat then it sets you back days in terms of it healing.
It's expensive too with lots and lots of nappy changes.
And it's labour intensive. Excuse the graphic detail but every time there's a motion we wash her in the basin with special sensitive soap, dry her with a blow dryer, and then cake on the zinc and castor oil like it's thick creamy icing on a cake.
If, while we are doing all this, she happens to do even the most minute number two then we repeat the process all over again.
I know nappy rash is something that goes with having babies, and compared to the stress of having a little one with a chronic illness, it's peanuts.
But the evil rash is a pain in the bum - mostly for them, but also for you.