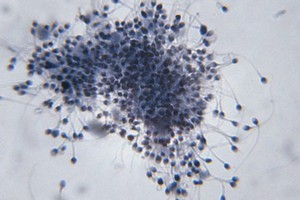 A Sydney woman who wants to have her dead husband's baby wept for joy as a judge ruled she can have possession of his frozen sperm.
Mark Edwards died in a workplace accident on August 5 last year, the day before he and Jocelyn Edwards were due to sign consent forms to begin IVF treatment.
Jocelyn Edwards obtained a NSW Supreme Court order allowing the posthumous extraction of sperm from her husband, to be stored at the IVF Australia laboratory pending a judicial decision.
Yesterday, Justice Allan Hulme ruled that the sperm, which he deemed to be "property" in this case, could be released to Edwards, who "is entitled to possession" of it.
"Although there is no direct evidence, the clear and only inference is that she desires to have a child with the aid of assisted reproductive treatment," the judge said.
Edwards, 40, wept at the decision and later told reporters of her happiness, adding: "We're going to have our baby.
"Mark is overlooking this whole thing and we're going to do what we planned to do all this time."
Justice Hulme said Edwards could not use the sperm for assisted reproductive treatment in NSW, because the law required the provider's written consent.
However, he noted it was possible she could obtain such treatment in another state or a territory, or perhaps even overseas.
The judge considered whether the granting of Edwards' application would involve "the turning of a blind eye" to actions taken which were contrary to NSW law.
But he agreed with submissions that the release of the sperm might enable her to take it out of the state, "but it would not be a cause of it happening".
The dead man's mother, father, stepmother, sisters and brothers supported Edwards' request. "The evidence before me is clear that any child that will be conceived will be born to a loving mother and with a supportive extended family," the judge said.
The couple married in 2005. Edwards has a 20-year-old son from an earlier relationship, and her husband already had a son, now 13.
After she did not get pregnant, they discussed the possibility of IVF treatment. They decided they wanted IVF and were due to return on August 6, the day after he died.
- AAP