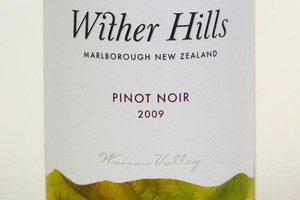 There are a number of local producers who have been so consistent over a significant period of time that there is a danger of them being taken for granted. Those that have become such an integral part of the winescape we no longer notice them.
Wither Hills springs to mind, so it was good to be reminded just how good, consistent and determined they are not to just keep on keeping on, but to continue developing, experimenting and striving for whatever it ultimately is that makes a New Zealand wine stellar.
Smart, then, to put your wines with food and also with a chef who is as obsessed with his craft as the winemaker is with his.
Wellington restaurateur Martin Bosley recently created a menu to show off Wither Hills wines, blending a raft of canapes, including roast Marlborough salmon, Leigh crayfish, minted pea puree, oyster cream avocado mousse and goat's cheese "cigar" with Wither Hills Rarangi Sauvignon Blanc 2010. The wine is a dryish, mellow, finely tuned, not too "in your face" drop.
Well-crafted Marlborough sauvignon has long been a staple signature wine of Wither Hills, as have their precision-made supple and deeply satisfying pinot noirs.
Says winemaker Ben Glover, "We want to let the wine feel its way but it needs some parameters. We've worked on acidity and getting it ripe rather than falling back on too much oak."
We later sampled a flight of pinots from 2007 and the Benmorven, Taylor River and Wairau Valley went well with Bosley's duck tartare, duck liver mousse and terrine of smoked eel.
The first two wines are available at restaurants only. All of the pinots had the feeling of a well-nurtured, poised and silky wine with plenty of fruit flavours but enough restraint to keep you guessing and interested.
Bosley's food was so exceptional you wouldn't want your wines being overshadowed. They weren't.
And dessert? Pinot noir adores mushrooms, so out came the mushroom sponge cake with poached Otago cherries. Wairau Valley 1999 pinot noir made it a tie.
Which is how it should be in a perfect world.
Recommended
2010 Wither Hills Rarangi Sauvignon Blanc $22
Sauvignon with attitude and a good dollop of sophistication. Big, herbaceous aromas, intense, rich and yet refined with gooseberry and lime flavours and a racy finish. Tending dry.
2009 Wither Hills Wairau Valley Pinot Noir $30
Newly released and like the 2008 before it, a finely textured and well-balanced wine with bright cherry notes and ribbons of spice. Fresh, fruity, vibrant and graceful. This is excellent buying for such a quality pinot noir.