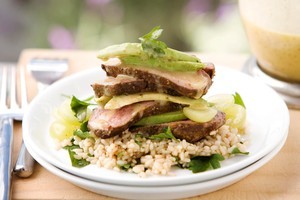 Seasonal switchover
Pair the last autumn avocados with heartier fare: sliced lamb rump, smoked chicken or prawns. Add zing with watercress, mint, romaine, spinach or rocket leaves and a sweetened viniagrette dressing.
Breakfast of champions
Add sliced avocado to a brunch of bacon and corn fritters with a fresh salsa. Mash with chilli and chopped tomatoes to accompany spicy Mexican-style huevos rancheros (fried eggs, spicy beans or salsa and grated cheese on warm tortillas).
Autumn salad
Chop avocado with early season's oranges and grapefruit when they arrive, or grapes. Add onion rings, a salty feta and toasted pine nuts for a more substantial lunch.