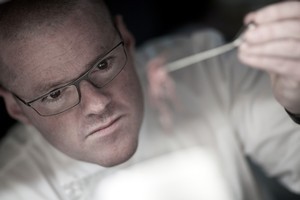 Heston Blumenthal thinks he might have OCD. The rules of politeness dictate that the least I should do is murmur some kind of dissent, but the words never come.
The problem is that he has just spent the past five minutes describing his quest for a perfect chip and there are precious few other explanations for a man who thinks it's normal to put a vegetable through an MRI scanner to prevent it going soggy.
His fixation on detail - along with his penchant for liquid nitrogen - has earned him a reputation as the mad prof of cooking, as well as a lot of Michelin stars. But it could also be the sign of something clinical.
"A friend of mine is a psychiatrist and he asked me one day, 'do you know what, have you ever thought you were OCD?'. He said it's classic, because people that have OCD rather than ADHD, if they find something they like and it gets them, it's that. It's obsessive behaviour," Blumenthal says.
"I don't know if I have or not, but I do like shiny objects. If I'm in the lab and a delivery comes, they will not open the box if I'm there and we need to be focusing on one thing, because I'll be over there like a toddler," he says, pausing to enact the scenario, throwing his teaspoon to the floor, and lurching towards his iPad.
At first he insists his fanatical side is not evident outside the kitchen. No, his sock drawer is not arranged in perpendicular angles, "quite the opposite", and no, he does not organise his life with scientific precision. But then we get on to exercise. This, he admits, borders on addiction. "I play a lot of racquetball. I'll play even when I know I should be resting. I'll play at 6.30 every single morning and if I get a chance I play twice a day."
All that obsession has been useful in his professional life. His chip experiments led to his much-copied triple-cooking method; and his dogged use of science to perfect meals undoubtedly helped him go from self-taught cook to running a restaurant voted best in the world.
Last week Blumenthal launched a search for a new protege. He is working alongside Tracey Emin and Richard E Grant in Great Britons, a competition that aims to find the best amateur chef, artist and film-maker for them to mentor while they design a meal, artwork and short film for British Airways flights during the 2012 Olympics.
Blumenthal is sitting in a room upstairs in the Hinds Head, the Tudor pub that is one of three award-winning restaurants he owns in the Berkshire village of Bray - or Braymanthal as it has been dubbed since his empire expanded. Ever since he set up the Fat Duck 16 years ago, his restaurants were confined to this Midsomer-esque idyll. Until this year.
The opening of his London restaurant, Dinner, in January took the 45-year-old out of his Bray comfort zone and into the competitive capital. Now he's tempted to follow in the footsteps of Britain's other big-name chefs and take on the US.
"I've had lots of offers," he says of the US market, "I would say that the whole concept of Dinner was a model that could be replicated. If an opportunity comes it might be something I'd like to do. New York would be one of my top choices. It's one of the great food cities in the world now."
The opening of Dinner was also a departure for another reason: its emphasis on traditional English cooking was a move away from the liquid nitrogen, snail porridge and crab ice-cream that led to accusations of gimmickry. These days he plays down the science in his cooking, rejecting terms like molecular gastronomy and describing what he does instead as "just modern cooking". But his test tube cooking has spawned a generation of enthusiasts, with liquid nitrogen even being used on the BBC's MasterChef. Now he worries he will be blamed for other people's bad cooking.
"I heard there was a guy on MasterChef using nitrogen or dry ice or something. I've got mixed feelings. I'm flattered if the dish is pulled off and works well, but if it doesn't then it's like 'Oh god, this is all that funny stuff that that bloke in Bray does.' If you put technique above the taste of the food that's no good."
For a while, Blumenthal seemed to be the man with the Midas paring knife. With an ever-expanding restaurant empire, shelves full of awards, a lucrative contract with Waitrose and a string of television shows, everything was going well. But two years ago a batch of oysters infected with the norovirus at the Fat Duck seemed to threaten the implosion of the whole lot.
The incident prompted the kind of blanket reaction you'd expect from someone whose character borders on the clinically obsessive. "I've not served an oyster in here, in the Crown, in the Duck or in London since that happened. I don't know if I'll ever change."
- INDEPENDENT