Adolescents who shun meat still need to get all the right nutrients, reports Susan Edmunds.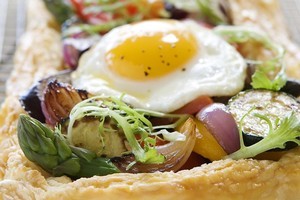 When even Lisa Simpson is a vocal spokeswoman, you know teenage vegetarianism has gone mainstream.
Studies show about 10 per cent of teenagers eschew meat in their diets - whether it's just skipping red meat or going completely vegan. But for meat-eating parents, a vegetarian teenager can raise some concerns. Many people worry about their children getting a nutritionally balanced diet anyway, and vegetarianism adds an extra element.
But dietitians say there is no real cause for concern. Managed properly, a vegetarian diet can be as nutritionally balanced as any other. The key is to make sure the vegetarian member of your family isn't just giving up meat - they need to be replacing the meat portion of their diet with something else.
MaryRose Spence, a dietitian with The Nutrition Consultants, says teenagers need to make sure they get an adequate diet because they are going through a time of lots of changes, both physically and hormonally. Thirteen to 19-year-olds have high nutritional needs to allow and sustain the rapid growth they are undergoing.
Teenage vegetarians need to focus on getting enough energy from their food. Spence says they need to be consuming more energy than adults, anyway. "There is an increased requirement for total energy (kilojoules) for all teenagers." But a diet heavy in fruit and vegetables can make you feel full before you have consumed enough. Energy-rich foods such as peanut butter and avocados can combat this problem, as well as provide good fats.
Spence says vegetarians need to focus on getting enough protein, iron, zinc and calcium. "During the teenage years there is an increased requirement for these nutrients, however achieving this is often more challenging with vegetarian choices."
Whether the teenager is simply dropping red meat or going completely vegan, Spence says they need to be aware of the implications of their diet. "Foods selected from a variety of wholegrain cereals, legumes, fruits and vegetables, nuts and seeds, plus eggs and dairy products are able to provide all the nutrients and energy required by the body. The more vegetarian one becomes, the greater the risk of deprivation of certain nutrients."
She says parents can make sure their children are eating a balanced vegetarian diet by checking they are eating six servings of bread and cereals a day, such as rice, bread, breakfast cereal, three servings of vegetables and two of fruit, two or three servings of dairy products a day and two or three servings of protein. For vegetarians, protein needs to come from sources such as lentils, chickpeas, beans, tofu and soy products.
Vegan teenagers, especially girls, might need to have B12 and calcium supplements. Calcium is vital for building bones - peak bone mass is achieved at 18 and not having enough calcium as a teenager can increase the risk of osteoporosis later in life. Vegans can get calcium from soy milk, almonds, broccoli, kale and figs. For vegetarians who eat dairy, milk, yoghurt, eggs and cheese are good sources.
"A vegetarian regime that includes plenty of green vegetables, whole grains, beans, peas, and nuts will probably provide enough iron for the body's needs," says Spence. "Iron from plant products is less well absorbed, so eating foods that are a good source of Vitamin C at the same time as foods containing iron enables the body to absorb the iron more easily. It would be wise to have iron levels checked from time to time."
If only one member of the family is vegetarian, Spence says it is important they do not just leave out the meat portion of what everyone else is eating. Just eating the potatoes when everyone is having a roast will not provide a balanced meal. "Simply eliminating the meat component of a traditional meal leaving just the vegetables doesn't make a balanced vegetarian meal. Some protein needs to be added."