Landscape gardener and Life columnist Justin answers your questions.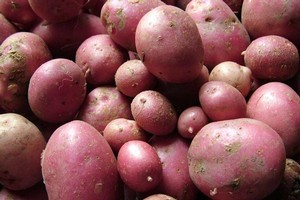 A friend of mine who lives in Blenheim has had problems with his potato crop over the past couple of years. All he gets is lots of little potatoes from his mature plants. A neighbour of his has the same problem. Ray is an expert gardener of many years' experience who digs over new ground each year for his potato crop and carries out the correct procedure for potato growing, as does his neighbour. They both buy top-quality seed potatoes. Any ideas as to why this happens?
- Erick C. Strickett
I've heard this story quite a bit this year from seasoned gardeners in the South Island, so it could be just a poor growing season for many potato growers. I myself have had an exceptional crop of potatoes this year and I'm putting this down to the fact that I opened up some new ground. If the plant tops were vigorous but the spuds tiny, it could be the soil is nitrogen-rich, which is great for the tops but poor for tuber growth. Try planting potatoes after a fruit crop which is not part of the nightshade family like corn or pumpkins. When planting my seed potatoes I line the trenches with comfrey leaves which are high in potassium.
Try making a comfrey tea in a barrel or large bucket and water your potatoes with a weak solution regularly. Other problems include over-mounding or drowning the plants in wet soil and irregular watering. Using a few different varieties of seed potatoes helps spread the risk of a crop failure, using organic seed guards against spray contamination, while saving your own seed potato ensures you control what plant material you use.
My garden is very tiny and the compost bin is in a corner that doesn't get much sun in the winter, but there's nowhere else to fit it. It's one of those black plastic three-storeyed ones from Eco Store. What could I do to keep it warm and composting during winter so I have a nice "crop" when I get the garden ready in spring?
- Alister
Cold or anaerobic compost is high in humic acid and is a very good thing indeed. To speed things up I recommend getting another bin if you can squeeze it in. While one batch of compost breaks down the other can be filling up, ensuring year round processing and harvesting. The other option is to pull the heap apart every couple of months then turn it and reinstall it. This adds oxygen which accelerates the decomposition process.
Turning your compost regularly helps you to keep an eye out for any problems such as dry or boggy compost and you can modify your heap accordingly. To keep the heap warm try insulating it with old carpet or even card board.
I have a 3-year old griselinia hedge which I'd wanted to keep quite clipped and compact at about 1200mm-1500mm-high, but it is getting a bit leggy and woody and gappy. Should I prune it back hard in autumn and hope that spring growth will fill it out again for the summer?
- Mary
Griselinia responds well to pruning as it re-foliates from the wound. If your plants are leggy or gappy then they could be in too much shade or the soil maybe poor. Make sure you mulch under your plants adding plenty of sheep manure annually. Be realistic about the width of your hedge. If the profile is too thin it will be difficult to get a dense hedge. Lastly, a strict geometric shapes using griselinia while achievable, asks a lot of your plants and extra feeding, watering and care may be required.
Can you grow root ginger in New Zealand? If so, what sort of soil and care does it need? Would you just plant roots from the supermarket in the soil, or do you need to sprout them first? What sort of roots would work best?
- Don
Root ginger is more of a tropical enterprise and getting the fat juicy tubers we're used to buying can be hard work. They require a lot of watering and feeding during the summer months. As a rule the supermarket ginger doesn't sprout but you can buy seed if you shop around. Many ginger varieties are considered pests so be prudent when planting. Ginger likes an acid, free draining soil so plant in plenty of commercial compost and sand for drainage. To extend the growing season, position the plants on the north side of a building which will trap and reflect heat. If the tubers are small let them winter over and harvest at the end of the next growing season.
Weekend checklist
Start cleaning up the garden ready for winter.
* Clean out old leaves and compost.
* Trim hedges and your edges.
* Trench your garlic beds adding plenty of seaweed and comfrey.
* Feed the lawn - its your last chance to patch and repair before winter.
* Trim shrubs and roses.
* Trim out fruit trees as soon as they have finished fruiting.
* Tidy vines and climbers.
* Green crop any ground being left to lie over winter.
* Mulch vege garden with pea straw and top up mulch paths.
* Clean out ponds of autumn leaf fall.
* Plant bulbs and wild flowers for spring.
* Plant winter colour such as cyclamen and viola.
* Order fruit trees and garlic.
* Germinate onion seed.
* Cut up any leaf litter, foliage or prunings which won't fit in your compost bin and cover with a tarp or place in an old wool bag with a few shovels of soil. This gets the compost ball rolling while you wait for bin space.
* Turn your compost.
* To ask Justin a question, click on the email link below.