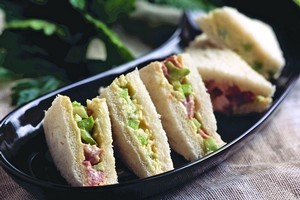 Something fishy
When high tea is called for, whether for Friday's nuptials or next Sunday's Mother's Day, the glamorous sandwich is smoked salmon. Whip slivers into cream cheese to spread on fine brown bread, or use full, luxurious slices.
Eggsellent
Mash hard-boiled egg with enough mayonnaise or milk to moisten, stir through finely chopped parsley or chives. For a double club, you can't go past ham or finely shaved asparagus on the second layer.
Chicken licken
Poach chicken breasts in a little stock, finely shred and mix through with mayonnaise to moisten. Add mashed avocado (sharpen with lemon juice), chopped chives and finely chopped walnuts or pine nuts.