Supermodel and muse Ines de la Fressange is the epitome of Parisian chic. She lets Viva in on a few of her shopping secrets and style tips.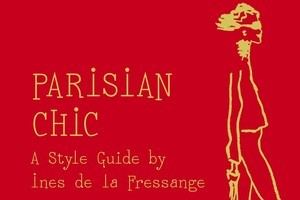 Ines de la Fressange has become a L'Oreal Paris ambassador after more than three decades embodying Parisian chic as a model and muse.
We may not have a show of making the cover of Elle France when we turn 50 as Ines did in 2008, but it is encouraging to see older faces celebrated in the fashion and beauty world. Later she founded her own fashion brand and helped relaunch the luxury Roger Vivier show line.
Besieged by questions from friends and pleas for sartorial advice, fashion's great doyenne de la Fressange decided to write the definitive guide to Parisian style. After a career as supermodel and muse to the likes of Karl Lagerfeld and Jean-Paul Gaultier, not to mention being selected as the face of French national heroine Marianne, de la Fressange, 53, felt it was time to share the secrets of her success.
The book, co-written with French fashion journalist Sophie Gachet, launched this month and is dedicated to creating and curating a classic wardrobe inspired by the streetwise insouciance of France's notoriously elegant grandes dames and modelled by de la Fressange's daughter.
"We wanted to write a very easy-to-read book," Gachet explains. The tome includes insider styling and beauty tips, as well as some of France's most famous model's personal shopping recommendations. "I'm a bit of a shopaholic," she admits. "But getting dressed in the morning, I feel like everybody else I know - that I don't really have the right things."
But de la Fressange has since become something of an expert, so here are her top tips for timeless style.
"You may think that people won't look in detail at your clothes ..."
... Except if you have a friend who is a stylist, who will tell you immediately "oh, you have a new T-shirt, darling". But people who aren't stylists see the general impression. If you feel okay, you will look okay - but people notice if you're suffering in your shoes, or things are too tight. You can't cheat them! We say in the book, it's better to wear flat shoes than high heels if you don't know how to walk in them. And there's no point in buying those bras with clear plastic straps and imagining that people won't see them. We see that you have a bra on and we see it's an awful one. It's better to show the strap of a beautiful bra instead.
"Make things your own."
I met a buyer from the States who said the Chanel show was her favourite place to buy clothes. "I just take what you wore in the show and the work is done," she said. But I wore the things that I would need after the show for real life, and I actually wore them. I didn't have the best things - I had the things I felt comfortable in. When I worked in the studio with Karl Lagerfeld, I was the customer and the woman who was going to wear the clothes. It's not only the object, it's how you wear it and how you mix it with other pieces.
"Brush your teeth."
It's true - if you do one thing to look better, brush your teeth. Yesterday at a cocktail party, a woman arrived wearing a lot of jewellery, a lot of hair, a lot of everything, with a crocodile handbag, and these yellow teeth. I wanted to say, "is your dentist on holiday?"
"Don't dress like your teenage daughter, but do follow trends."
Jeans with too many holes are out, but I think a lot of women stick to a certain time when they looked good, usually around their thirties. You still see some women who look like they're in the 80s. I think you have to look at what's going on. If you've never worn orange in your life, why not try it? When there was a big trend for nude and beige, I didn't invest in cashmere because I knew it was just for three months. My beige cardigan came from Uniqlo!
"Don't add all the diamonds you have."
It's not difficult to look trendy and comfortable - you don't need all your diamonds and all your earrings, especially after a certain age. You have to take things off, to take away - and avoid fur. You put on fur and you immediately age 10 years; it doesn't suit anyone. A lot of French women look like they don't really think about what they're going to wear, and that makes for effortless style. But effortless style is a lot of work.
"Trust a bit more."
Everybody has prejudices. I had a friend who had a short neck, so she thought she couldn't wear a turtleneck. Some people say blue can't go with black. Another friend said, "I can't wear earrings because they don't suit me". Where does it come from? If I wore a skirt, a matching jacket and big earrings, I would look like my grandmother. Fashions change, and I'm always learning. Talk to shop assistants or go shopping with friends, because sometimes they say, "why don't you try this?" and you might never have thought of it.
"Have fun."
There are some women, believe it or not, who think it's boring to go shopping. And they don't enjoy it. But everybody should enjoy looking better - it's nice, it gives you joy and fashion is all about joy. Lately there has been a lot about businessmen and huge companies, but we work for women, for the joy of finding somewhere new, of looking better and feeling desirable. There's this idea with fashion of "oh, this is going to be funny". You're funny if you say funny things, but who wants to look like a clown? Buying a black sweater isn't fun, it really isn't. But afterwards, when you wear it with nice neat hair and ballet shoes, you can look really beautiful. And that is fun.
"Buy things that seem boring."
Like a man's V-neck sweater, a white shirt, black jeans that you maybe cut at the ankle, a black bag, black sunglasses - that look is fantastic. Remember the picture of Princess Diana in the black turtleneck? The most beautiful picture of her, it was wonderful. She had all the clothes on Earth, all the hats, the dresses, the jewellery, but the best look was the black turtleneck. Look at how simple fashion people are - we always say "less is more".
* Parisian Chic: A Style Guide by Ines de la Fressange with Sophie Gachet.