Herald on Sunday rating: 4/5
Address: 6 Swan Lane, Te Aro
Phone: (04) 385 2240
Website: dukecarvell.co.nz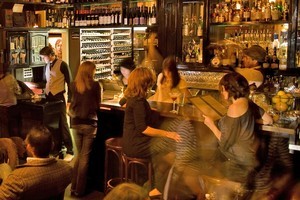 If you take my advice, you will drop whatever you are doing right now and book a flight to Wellington. Immediately upon landing, head straight for Duke Carvell's and order a plate of their sesame-crusted lamb's brains.
If you do this on a Monday, you can order two plates, because one of them will be free. So it really makes sense to order four for the price of two. You've come all this way after all. Go on: knock yourself out.
The brains at the Duke's are just as brains should be, so buttery as to melt creamily on the tongue. But it's that crust that makes them worth the trip: as brown as a walnut shell and faintly glistening. A squeeze of lemon juice, a grind of pepper, a quick smear of mustardy mayo - just a touch, mind, not a dunking - and then you can feel the faintest of crack-pops as your knife breaks through the ground-sesame coating.
On the whole it's probably worth planning ahead because drop-what-you're-doing flights to Wellington are pricey. The Professor and I found ourselves down there because, about six months ago, I'd clicked on something in my email inbox and found myself the proud owner of two return tickets for the princely sum of $76 all up.
It cost half that to park the car at the airport for the duration.
I always enjoy eating out in Wellington. It has some serious destination dining, but there are more boho and casual places than in Auckland.
This friendly little establishment in a small lane off Cuba St is an example. It's another outlet of the fabled Bresolin dynasty (Remiro, a Venetian emigre who died in 2007, established the legendary and lamented Il Casino in Tory St; sons Leonardo and Lorenzo run the "caffe e cucina" Scopa, a few doors down the street).
Duke Carvell's, or to give it its full name, Duke Carvell's Swan Lane Emporium, comes with a back-story - you can wade through it on the website - that I suspect is the work of a fantasist rather than an historian and is also, not to put too fine a point on it, a bit naff. The Duke's credentials are further underlined by a lot of faux-antique portraiture on the walls but the highfalutin artwork doesn't do much to disguise the fact that this is a conscientiously unfancy and homely sort of place. The couple at the next table were escaping from the drudgery of the kitchen and, since the menu operates on a two-for-one basis on Monday nights, you can see their point. Four small plates for $30 is a hard-to-resist alternative to cooking.
I mentioned the brains, did I not? Elsewhere, we mopped up the juices of some fat white anchovies with grilled bread; we got our fingers thoroughly messy peeling succulently steamed Portuguese prawns; the Professor got to work on a chocolate fondant that was so rich, I suspect it's illegal and I kept some poached pears with mascarpone all to myself.
In between that lot, we traded fork blows over a whole tarakihi baked en papillote, which means wrapped in paper. As our waitress took to the paper with a pair of scissors, the steamy vapours - fennel and carrot - puffed out. It was not, on reflection, an ideal dish for the day, which had been one of those achingly clear early autumn ones that this month was blessed with: the treatment was a little wintry and the fish had also spent a few minutes too long in the oven. However, this is a detail.
I approached the counter at the end of the meal, told them what I do for a living and asked for a copy of the menu - which is, irritatingly, unlike the online one.
In Auckland this announcement is usually the cue for panic stations, hand-wringing inquiries, a summoning of the manager. Not here. The young man flipped me a card and suggested I send an email.
I liked the cut of his jib. He was happy for me to do my job. He was just getting on with doing his. And rather well, too, if you ask me.
Ambience: Raffish
Vegetarians: Best avoid the brains
Watch out for: Monday nights
Bottom line: Cheapish and very cheerful
THE BILL
$117.50 FOR TWO*
Small plates (5): $75
Whole fish: $38
Desserts (2): $28
Wine (3 glasses): $30
Coffee: $4.50
*$161.50 less $44 on two-for-one deal