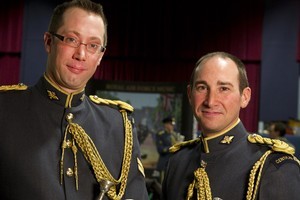 Two Kiwis are among a small group of musicians who will play their trumpets the moment Prince William and Kate Middleton are pronounced man and wife, it was revealed today.
Corporal Hamish Dean, 35 from Whanganui, and Senior Aircraftman Michael Mcgowan, 32, from Christchurch, are part of the Central Band of the Royal Air Force, based in Northolt, west London.
The seven trumpeters and one drummer will accolade the couple once they sign the register, filling the sacred halls of Westminster Abbey on April 29.
The piece, which will be revealed on the day of the wedding, is called Valiant and Brave, which is the motto for 22 Squadron, of which Prince William is serving as a search and rescue pilot in North Wales.
During a practice session at the base today, the band practised some traditional fanfares in front of dozens of international media organisations.
Cpl Dean and SAC Mcgowan, who had not previously served in the military, undertook nine weeks of gruelling training as recruits, when they joined the RAF in 2004 and 2006 respectively.
Like all members of the RAF, the band members are required to support British forces on operations in Iraq and Afghanistan in a non trade-specific role.
Their duties may include anything from a guarding or watch keeping role to driving ambulances or administration.
The two Kiwis, who met while completing a Bachelor of Music at Victoria University, are yet to be deployed but say they are ready for when the time comes.
Cpl Dean, who also works as a RAF librarian, lives on the base as does his partner who is also in the band.
SAC Mcgowan lives with his wife Miriam, who is from the Waikato, in the nearby West Ruislip area.
The 30-second piece the pair will play was composed by the RAF's music director, Wing Commander Duncan Stubbs.
He played at Prince Charles and Lady Diana Spencer's wedding in 1981 and will be conducting the band on their son's big day.
Eight Household Cavalry state trumpeters will also play at the wedding and more than eight other bands will join over 1000 military personnel along the procession route from Buckingham Palace to the Abbey.
The 1st Irish Guards will provide the Queen's Guard throughout the day and a path-lining party - with soldiers personally chosen by Prince William - will be displayed for the couple as they leave the Abbey.
After the wedding, a Captain's Escort will be provided for the bride and groom, and a Sovereign's Escort for the Queen and Duke of Edinburgh along the procession back to the palace. It will involve more than 160 horses.
And more than 100 soldiers will provide a Guard of Honour in the forecourt of the palace upon the royal family's return.
A flypast of six RAF aircraft including a Spitfire, a Hurricane, two Typhoons and two Tornados will take place over the palace at 1.30pm (GMT).