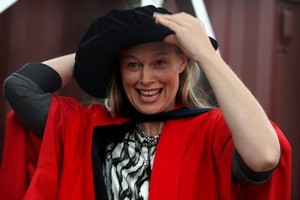 Fashion designer Kate Sylvester will today receive an honorary doctorate from Massey and will soon be fronting a new campaign promoting the university to prospective students.
The Aucklander said her father would be particularly proud. When she finished her then Wellington Polytechnic course in 1986, she left with a certificate of attendance rather than a diploma, having skipped some of the required business papers.
But she picked up strong technical skills to go with her creative vision - and a business partner and life partner in fellow student Wayne Conway.
From selling clothes at city markets the couple now steer an exporting business and employ a workroom "full of Massey graduates".
Sylvester will be among hundreds of College of Creative Arts graduands to be capped at the Bruce Mason Centre, Takapuna, this afternoon in the second of six ceremonies this week for the university's Albany campus.
Massey is awarding three honorary doctorates including one to a second design school graduate, Academy Award winner Richard Taylor of Weta Digital.
The recruitment campaign for the university, which includes television advertising beginning this month, aims to position it as a place where for students options are more than the traditional ones. Farming, forestry and fishing are now being joined by fashion, film and food.
Massey vice-chancellor Steve Maharey said Sylvester and other alumni were a rich resource for the university to draw upon.
"Kate's triumph in elevating New Zealand design to a world-class, lucrative industry with a distinctly Kiwi flavour very much reflects what Massey stands for as a university."
He said the university was taking a positive approach in promoting itself.