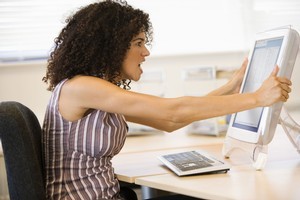 If the day should ever come when I am alone in this world with not a friend to speak to, I can take comfort in the existence of the email writer.
It will never be necessary to feel cut off from the world or lonely while I have the several email addresses which people freely use to contact me. Most days I wade through about 20 of them, some days it can top 100.
"Can't find your recipe for x, send it to me now," is how some of them go. "I just heard you on the radio and you are probably still driving home but I'm going out so can you send me the recipe you mentioned so it is here when I get back?" is how others go. And then there is the familiar "How do I get a stain out of my carpet?"
Some just say how much they like my work or say "thank you", which is always satisfying and reassuring. And then there are the others.
"What you might like to know," is how they start and then continue, using an average of 500 words to tell me that I am a stupid woman with no idea what I am doing and that I would be well advised to cease existing immediately.
These are from the group of people I now refer to as Men Who Know More Than Me. It's hardly an exclusive club, as there seems to be an enormous number of them dotted around the country.
They seem to have exceptional knowledge about anything from the chemical formula for baking soda to the nutritional value of a sponge. Most of them are retired from very important jobs with impressive titles which they still list under their name at the end of the letter, but with the addition of (former) placed carefully in front of it.
I hear regularly from (former) scientists, army personnel, accountants, engineers and one particularly persistent dentist.
My husband will usually find me frowning over my laptop as I decipher yet another letter telling me exactly how ignorant I am.
"Trouble in paradise?" he asks.
"No, just another member of the Men Who Know More Than Me club," I say, scratching my head in an effort to work out which column of the four I write weekly has offended them.
"Does it surprise you that I've never been asked to join that club?"
"Not really," I respond.
"You know that you are making hundreds of older women very happy by occupying their retired husbands for the morning it takes to write you their emails."
"Well, I'm very glad to be of service, but you do have to wonder why they bother."
I don't reply to the Men Who Know More Than Me because it would just encourage them to write again and there's only so many times a woman can be told she is ignorant before she gets a little defensive.
My other email writers belong to the PR industry and usually begin with the phrase, "I have a great idea which I think will enhance your brand", followed by an average 1000 words about a new product or service being offered by their clients.
I'm a very accomplished skim reader and usually finish the email, marvelling at the thought processes involved in trying to convince me that the result of "thousands of hours of innovation and creative consulting" would have anything at all in common with a woman who writes columns for a living and tends to five hens, five children, two grandchildren and a garden.
Occasionally, my husband strays into one of the email inboxes (he has them all logged into his iPhone) and sometimes enjoys keeping up with his wife's mail, especially over a glass of wine.
I know he is reading my mail because inevitably he gasps. I count to 10 and then he gasps again. On the third gasp I've had enough.
"Are you reading my mail again?" I ask.
"Who on earth do these men think they are? And more importantly who do they think they are talking to you like that? For old guys, they lack manners and common decency."
I think for a moment about expounding on the certain existence of chauvinist pigs in the older male demographic of this country and ignorant PR consultants but I just can't be bothered.
"Welcome to my world," is all I say as I pour him another drink.