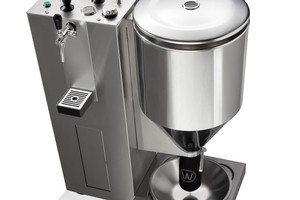 A Kiwi innovation enables beer drinkers to brew their own drop in as little as seven days - but the convenience comes with a hefty price tag.
Ian Williams and his close friend Anders Warn, a food technician, unveiled their all-in-one "personal brewing device" in Auckland yesterday.
They claim the WilliamsWarn machine produces the world's freshest beer through a patented process that cuts out many of the difficulties normally encountered in home brewing.
And despite the machine retailing for $5660 they are confident of finding a market for it.
"We see huge potential for the WilliamsWarn in the home, workplace, bar or cafe. Not just in New Zealand but also globally," Mr Williams said.
"We've already been talking to people in Qatar, Dubai and expats who live in countries where beer is expensive."
The "Kiwi beer-thinkers" said more than a third of New Zealand males had tried home-brewing, but many had given up because of the time involved and the low-quality beer they produced.
The WilliamsWarn machine was developed by the friends with the help of government funding from the Ministry of Science and Innovation TechNZ business support programme.
The ministry's director of investment, Mark Gallagher, said the friends' invention had the potential to "be one of New Zealand's export success stories".
It will initially be available in New Zealand only from the company's website.