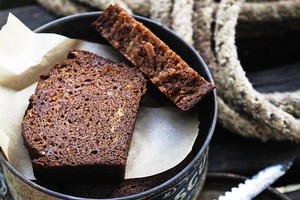 Serves 6-8
1 cup chopped fresh dates
1 tsp bicarbonate of soda
3/4 cup brewed Earl Grey tea
2 apples, peeled and grated
1 1/4 cups self-raising flour, sifted
3/4 cup brown sugar 150g butter, melted
1 tsp vanilla extract
4 eggs
1 Preheat oven to 160C. Place the dates, bicarbonate of soda and tea in a bowl and set aside for 10 minutes. Using a hand-held blender, blend the date mixture until smooth. Set aside.
2 Place the apple, flour and sugar in a bowl and mix to combine. Add the butter, vanilla, eggs and date mixture and mix well to combine. Spoon into a lightly greased 10 cup-capacity loaf tin and bake for 45-55 minutes or until cooked when tested with a skewer.
3 Cool for 10 minutes, then turning out on to a wire rack.
* For more recipes by Donna Hay click here.