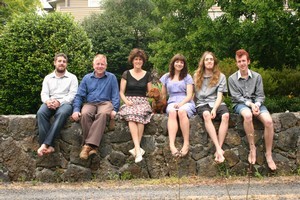 Sibling rivalry is often said to be rooted in a fight for parental attention.
But the roles could be reversed after new research revealed children are more likely to feel unconditional love from their mothers than their fathers.
Otago University professor Amanda Barusch quizzed more than 1400 Kiwis aged 18 to 25 to study the relationships between adult children and their parents. She found clear differences between how they viewed their mums and dads.
The five most statistically significant were that mothers were more likely to be perceived to give their children unconditional love, be honest and frank, sacrifice their own comfort and be a friend to their children.
In contrast, fathers were more likely to disagree with their children.
Barusch said the findings were linked to how many people perceived the traditional roles of fathers. She said fathers felt solely responsible for providing for their family and made work a priority.
"Fathers do love their children but they express it by doing things," she said.
"They think: 'I pay the mortgage, isn't that enough' and the children are saying 'well no not really'."
Many respondents described their mothers as role models. Some said their fathers were strict, stubborn and unable to show emotion.
"In general they said mothers were more likely to worry and they were more confident of their mother's love than their father's."
The chief executive of parenting resource Parents Inc, Bruce Pilbrow, said stay-at-home mums traditionally had more time for their children and might have been perceived to care more.
But he said that was unfair and "undervalued" the role of fathers.
"Mums are nurturers but it would be interesting to do the same survey in 18 years' time because more often both parents are working nowadays."
Pilbrow said dads who went out to work had to find other ways to connect with their children. He suggested conversation around the dinner table.
"Dads are fixers. So if a child has a problem, fathers jump in and try to fix it and the children don't necessarily want that - they just want them to listen."
MUM'S THE SOFTY, DAD'S GOOD AT ADVICE
Grace Maguire agrees perceptions of parents are shaped by traditional roles.
The 22-year-old is one of four adult children born to Mike and Judy Maguire of Mt Eden, Auckland.
"Mum was home when we were growing up so if I had any problems she was who I went to but that's not because I couldn't talk to my dad. My dad is great at giving advice.
"I know both parents love me unconditionally but I feel my mother would more easily forgive a wrong."
Her 18-year-old brother Seamus said his father was more likely to disagree with him. "Both my parents are Presbyterian but I'm not religious," he said. "I don't talk about it but I think my father would find it harder to accept. My mother is more likely to be okay with it."
Judy said she supposed she sacrificed herself for her children but her husband also gave unconditional love.
"He is more practical whereas I will feel obliged to do things for them," she said.
Mike said he had a richer experience with his children since they had grown up.
"I can have an engaging conversation with them that I couldn't do when they were 14 or 4."