Keep things neat with a garden tool caddy. Justin Newcombe shows the way.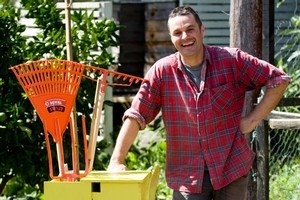 Picking up and putting away everything in the garden can be inconvenient, and then there's the niggle of trying to find your tools, seeds, gloves, tree tie, secateurs, plant trays, labels, fertiliser, the muffin you didn't quite finish that morning, pruning saw, ornamental hand protectors, AM/FM receiver and that handy article you read in last weekend's paper.
All of those gardening knick-knacks so diligently collected by the magpie gardener can be very untidy, and just remembering where you put them can be a battle lost. A portable caddy means, thankfully, you can have all your gear in one place without having to traipse around finding things you need, looking for things you've lost and in my case searching for things I don't even own. A caddy keeps your entire kit in good order and your "tangle-ables" in an untangled state. I know some of my older friends, who find some aspects of gardening a bit tough on the old joints, have reinvigorated their enthusiasm with raised beds, and once I had finished building my caddy (isn't this always the way) I thought how wonderful it would be to attach a seat, ah-la a golf caddy. This would make raised bed gardening really comfortable. Other additions could be a hose holder and a bucket holder.
When gardening on a larger property, the garden caddy really comes into its own. Dragging yourself up and down your back section looking for a piece of string or a bamboo stake is just frustrating. Much better to have your whole kit in one place to start with and be able to just wheel it out and get started. When you've finished just wheel is straight back to its spot in the shed and forget about it, knowing everything's in good order for next weekend.
Step 1
Measure and cut panels for the sides and back. The front is partly made up of a set of drawers (which are also cut out now) and a flat panel to form the front of the tool bin.
Step 2
Glue and screw the drawers together.
Step 3
On the side panels trace where each wheel will go. The bottom of the wheel should be level with the bottom of the caddy. Cut out an indentation for axle.
Step 4
Glue and screw the main body of the caddy together. Install rails for the draws then insert them.
Step 5
Screw on the bottom sections and attach the wheels. Flip over and screw on the top of the drawer section.
Step 6
Cut out handle braces with a jig saw, then drill a hole big enough in each one for a solid piece of dowelling to slot into. Fit the braces on to the caddy, and then insert the dowelling.
Step 7
Paint with a gloss exterior paint. I recommend a minimum of three coats.