Rating: 3/5
Address: Cnr Alderman Dr and Edmonton Rd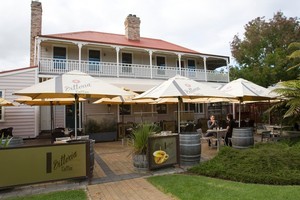 We came here because a friend lives nearby and recommended this cafe, housed in a beautifully restored hotel that was built in 1854.
Parking was easy enough, with a carpark right next door.
We walked in and immediately thought it was nice to be greeted and seated by a maitre d' for a change - and it all added to the ambience of our majestic surroundings.
The most unusual thing on the menu was probably The Falls bircher muesli - rolled oats, orange juice, natural yoghurt, dried fruits, pecans and honey with fresh seasonal fruit ($9.50).
We ordered the mini pancakes with vanilla cream and mixed berry compote ($14.80), which Rita drowned in Canadian maple syrup before scoffing the lot. Vegetarian Will demolished the garden brunch with free-range eggs on grain toast with roast field mushrooms, slow-roasted tomatoes, sauteed spinach and red onion relish ($19.50) and I inhaled poached eggs on grain toast with a slow-roasted tomato ($9.60).
The service was very polite and friendly, if slightly scatty.
The coffee was really good, though the soy lattes came with regular milk - nearly a disaster for the lactose-intolerant member of our group.
We recommend if you come here you grab a table out in the courtyard, which looks out on to lovely Falls Park.
Overall we thought The Falls is a beautiful venue and the food is good. It's a shame the service was a little off on the day of our visit, but we'll be back to give it another shot - perhaps even for dinner or late afternoon cocktails.