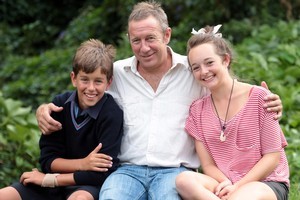 When Desperate Housewives character Tom Scavo sank into depression trying to deal with the birth of a fifth child, he was the object of derision.
But research shows the number of men battling the baby blues could equal that of women as they deal with the life-altering event.
Scavo used cannabis to deal with his depression but, in New Zealand, doctors are prescribing increasing numbers of anti-depressants.
Postnatal depression affects about 20 to 30 per cent of new mothers as they deal with hormonal changes, tiredness, changes in lifestyle and a lack of support, according to the Post Natal Distress Support Network Trust.
The latest figures from the Antenatal and Postnatal Depression Association in Australia show that, for men, the figure could be between 10 and 33 per cent.
Plunket clinical adviser Alison Hussey said men often experienced the symptoms as a result of supporting a partner with depression.
The changing father's role means that men are much more involved in their babies' lives - but that can also spiral into a sense of isolation.
"They are juggling their wife's emotions and needs, finances and adjusting to a new baby," said Hussey.
She said new dads needed support as many were struggling with their new responsibilities and watching their partner go through the symptoms of depression.
Those symptoms include prolonged lowness, sadness or anger, tiredness and loss of enjoyment of life.
The Mental Health Foundation said those affected often isolated themselves and some had thoughts of self-harm or even harming their baby.
The number of men experiencing PND was previously thought to be about 10 per cent.
However, the change in figures could be because of an increase in awareness, said foundation spokesman Martin Street.
"There's more willingness to admit it," he said. Street credited campaigns such as Out of the Blue with spreading awareness of mental health.
Plunket runs fathers' groups in some areas. For more visit www.plunket.org.nz
Year long struggle
As a new father, Brendon Smith sank into depression while trying to cope with the needs of his partner and two babies.
He noticed the changes 10 years ago when his children were aged 6 months and 18 months, while watching their mother go through similar symptoms.
"Even though I'd heard the term postnatal depression, I didn't really understand it," he says. "I didn't like going to work and I didn't want to see my mates."
The symptoms continued for about a year after Smith, who was 37, left his role in IT sales to become a stay-at-home dad. Smith has become a support worker for Father and Child, a trust set up by fathers for fathers.