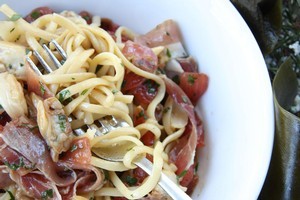 Tea tree-roasted littleneck clams, garlic, tomatoes tossed in linguini. Photo / Ian Jones
1 sheet kombu seaweed, rinsed and soaked in water
1 head garlic, smashed into individual cloves
1kg Southern clams, rinsed well
5 vine-ripened tomatoes, deseeded and chopped
1/4 cup low-salt soy or tamari soy
3/4 cup extra-virgin olive oil
Handful flat-leaf parsley, roughly chopped
1 tsp freshly milled black pepper
5 slices parma ham, torn into pieces
Tea tree twigs
320g dried linguini pasta, cooked al dente
1 In a preheated 190C oven, place sheet of drained kombu on baking sheet. Place garlic on top and roast until cloves are soft.
2 Meanwhile, lay twigs of tea tree in roasting pan and scatter over washed clams.
3 Remove kombu from garlic, run under cold water and lay over clams. Roast clams in oven until they open. Remove meat from shells, place in bowl with tomatoes, soy, olive oil and flat-leaf parsley.
4 "Pop" garlic from skin, add to bowl with black pepper, ham and heated pasta. Toss together and serve.