Liz Dickinson steps on the dating treadmill and finds singles fitness events can be fun.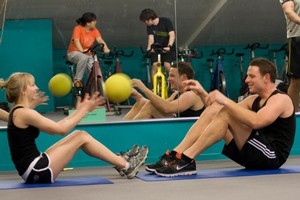 Hi Liz, would you like to go on a Fitness Dating evening?" It wasn't the most run-of-the-mill assignment for a journalist. "I thought it's the sort of thing that might pique your curiosity," the email said.
Fitness Dating is a bit like speed dating or even singles' dinners, except that you meet over shared exercise rather than sitting across a table.
It piqued my interest all right. If I could meet a guy while bright red in the face with a sweaty upper lip, then I had nothing much to live up to on the second date.
Come Friday, I donned my best exercise gear, pulled my tummy in and headed to Just Workout in Barry's Point Rd, Takapuna, for a 90-minute fitness dating session run by DJ Wang of Priority Fitness.
At the counter Colin was already filling in his guest form. Sizing him up it was clear he was very physically fit, and about five to 10 years older than me.
As the other participants arrived DJ showed us the changing rooms and suggested we do a short warm-up on the gym equipment.
We then moved upstairs to a fitness studio for introductions and an exercise circuit. The men moved counter clockwise and the women moved clockwise so that we were paired up with a different participant at each station. There were ice-breaker questions at each place to discuss if you couldn't strike up a conversation.
My first station was boxing, where Jonathan showed me how to improve my right hook. At the next station Mike and I skipped, while discussing the kindest thing that anyone had ever done for us.
Once we'd been around the circuit once we all headed downstairs for the second activity, running races and press up competitions, where we saw how many press-ups and laps of the car park we could do - one minute per activity.
Our final joint exercise was a team event. Each team had to do 50 chin-ups, two kilometres running on a treadmill, and two kilometres of rowing. Only one member of the team can be exercising at any one point and the other two of us encouraged the participant. Not being good on upper body strength, the guys had to do all but eight of the chin-ups, but I made up for it on the treadmill and the rowing machine.
Upstairs, prizes were handed out to winners of the competition, and we chatted over a joint stretching session. DJ got us to fill in a match card with a "Yes", "No" or "Just friends". Details would be exchanged later if there were matches.
We girls then headed for the locker room to freshen up. The conversation turned to the guys. Although none stood out as a match for me these blokes weren't lacking in the looks department. I rated all of them from reasonably cute to drop dead gorgeous and all had toned bodies.
The talent was light years ahead of the fat blokes on FindSomeone who either pose with a big fish, boat, fast car or straddling a motorbike unaware that they're screaming "mid-life crisis" and emphasising their fading charms.
Later we found out that the guys hadn't discussed us while showering, but talked about their jobs and cars. Typical.
But the exercise session wasn't to be the end of the night. DJ encouraged us all to go for a drink and dinner at Mac's Brewbar in Takapuna's Hurstmere Rd. This gave us time to get to know each other better. One man who'd appealed to me physically, turned out to be a little dull conversationally. Another was a bit of a geek, but good company.
My only reservation about Fitness Dating was the age range, which was just a bit too wide.
Fellow participant Janine pointed out that one of the guys, albeit cute for his age, was old enough to be her father.
Ironically, the only guy who scored a date on the night itself was DJ. In fairness to him, he didn't go looking to usurp his clients. We girls decided that he was the best looking guy there and conspired to find out if he was single and set up one of our number with him.
Would I go again? Like a shot. It was a great, bootcamp-style workout, with the added bonus of meeting single men. That's two for the price of one.
* All of the participants' names have been changed.
Meet your match
* Priority Fitness - Speed Dating